GUARNTEE TO BE ORIGINAL, 15 DAY INSPECTION PERIOD
WWII German M-40 Heer Army Camouflage Helmet, Single Decal - ORIGINAL -SOLD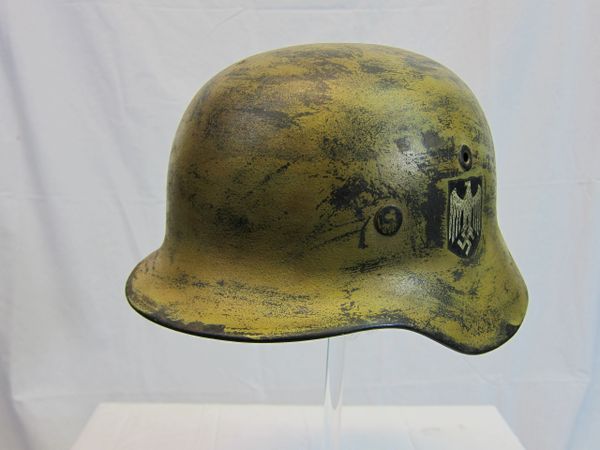 WWII German M-40 Heer Army Camouflage Helmet, Single Decal - ORIGINAL -SOLD
Description
Original WWII German Army M40 Camouflage Helmet, Single Decal 
- Period Painted "Afrikakorps" Camouflage -
 THIS IS A RARE HELMET- In great Afrikakorps Battle Used Condition
Up for sale is an all original WWII German Afrikakorps M40 Helmet, Tan Camouflage Afrikakorps colors. This is a superb item, inside the helmet has the original makers stamp - "NS64" (Vereinigte Deutsche Nickelwerke in Schwerte). The lot number stamp is "D133".
The Liner is in great shape, light brown leather, with normal wear and discoloration from use, one flap is missing. The liner is all original, all rivets/split pins and washers intact. 
 This is a great WWII German Army Afrikakorps single decal camouflage helmet. The colors and the condition of this helmet looks absolutely fantastic, real nice Afrikakorps look. This is a very nice and rare helmet, period correct and all original. Helmets with original period paint camouflage are rare, and compounding the rarity of this helmet is the single Heer Army decal. This is a fantastic helmet for any collection and is of museum quality.  Great example of a German M40 Afrikakorps Single Decal helmet. Add this to you collection or museum today, it won't last long.