GUARNTEE TO BE ORIGINAL, 15 DAY INSPECTION PERIOD
WWII German M-40 Army, North Africa Camouflage Helmet, Single Decal - ORIGINAL RARE -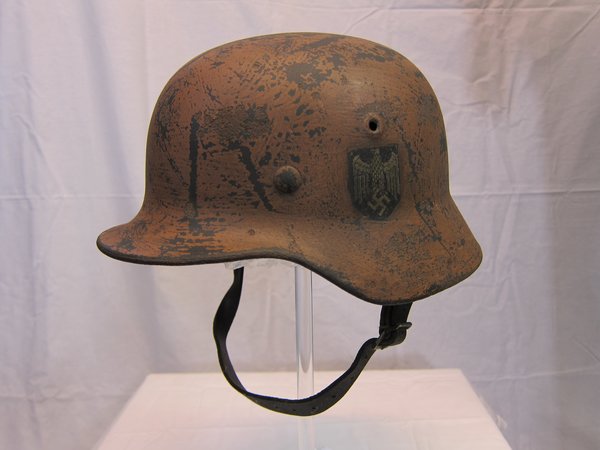 Description
Original WWII German Army Camouflage Helmet - Single Army Decal
North Africa Original Camouflage Painted Helmet
- THIS IS A GREAT HELMET- In Battle Used Condition -
This is an original WWII German Model 40 (M-40) Single Decal Army Helmet. This is an excellent example of a North Africa Tan/Rust painted helmet. The tan paint is a common camouflage color for German soldiers fighting in and around Tunisia , North Africa. This helmet appears to have received a coat of grey textured paint (reissue or repaint) prior to the tan camo paint application all period original paint. The decal was carefully masked and painted around, which is uncommon and very desirable. The single decal is in great shape and all original to the helmet. Helmet stamped with manufactures code mark "ET64" (Eisenhutten Plant in Thale) on the left side of the interior of the shell. The rear inside skirt is marked with the steel lot number "4972". Also the back inside of the shell has "R.M."
Liner is all original, all rivets/split pins and washers intact. Liner is stamped "56" light grey leather, with normal wear and discoloration from use. Chinstrap appears to be original to the helmet,.
The helmet came out of a collection back east, the collector said he had it in his collection for a very long time, it was one of his best items. He stated he had purchased the helmet from the vet who brought it home. This is great example of a North Africa German Original Painted Helmet. Nice addition to any collection or museum.