GUARNTEE TO BE ORIGINAL, 15 DAY INSPECTION PERIOD
WWII German SS M42 Normandy Camouflage Helmet, Single Decal - ORIGINAL VERY RARE -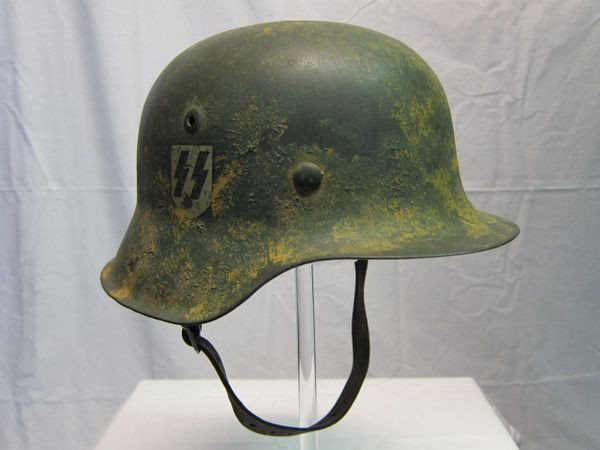 WWII German SS M42 Normandy Camouflage Helmet, Single Decal - ORIGINAL VERY RARE -
Description
Original WWII German SS M42, Normandy Camouflage Helmet, Single Decal
- Period Painted Normandy Camouflage -
THIS IS A RARE HELMET- In great Normandy Defense Battle Used Condition
This is a fantastic example of a German SS M42 Normandy Camouflaged Helmet. This rare and untouched original SS Helmet was manufactured by Sachsische Emaillerwerk - Lauter Factory, stamped inside under the brim with the makers mark and size, "HKP64", the "4" is hard to read. The rear inside skirt of the shell has stamped the steel lot number 5678. The unique camouflage pattern is green and tan "Battle of Normandy pattern and color". The helmet is in excellent shape and the single decal is accurate, and original to the helmet.
The Liner is in good shape, light brown/tan leather, with normal wear and discoloration from use. The liner is all original, all rivets/split pins and washers intact. The liner has the size marking "56". The chinstrap is a reproduction, a good reproduction, and is included for FREE.
This is a Normandy battle used historical German SS single decal M42 helmet, a excellent and very rare piece of history. This would make a great addition to any collection or museum, a rare and amazing looking helmet.