GUARNTEE TO BE ORIGINAL, 15 DAY INSPECTION PERIOD
WWII German SS Single Decal M40 Helmet, Normandy Camouflage,- RARE ORIGINAL -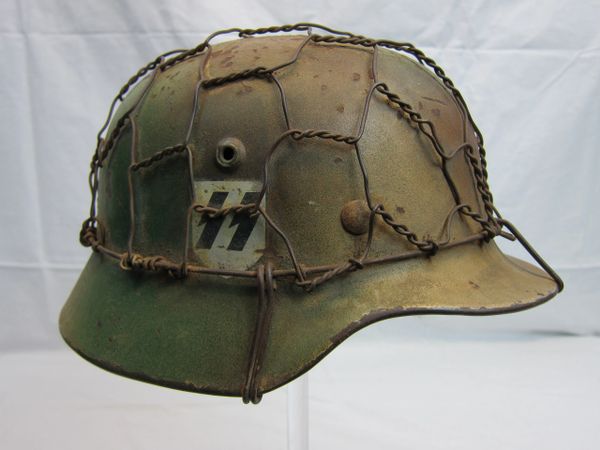 WWII German SS Single Decal M40 Helmet, Normandy Camouflage,- RARE ORIGINAL -
Description
Original WWII German SS M40, Normandy Camouflage Helmet, Single Decal 
- Period Painted Normandy and Chicken Wire Camouflage -
 THIS IS A RARE HELMET- In great Normandy Defense Battle Used Condition
Up for sale is an all original WWII German SS Normandy M40 Helmet, Green and Tan Camouflage Normandy colors, with Chicken wire, single Waffen Elite paramilitary forces, runic shield "SS" decal on the side. A picture of a similar helmet SE manufactured M40 style prior to camouflage paint being added is in "Kelly Hicks Book, SS Helmets" page 119. This helmet has a very similar color pattern to the helmet shown on the cover of the collectors book German Helmets Normandy-44 by: Dan Tylisz. This is a superb item, inside the helmet has the original makers stamp - "SE64" (Sachsische Emallier). The lot number stamp is "10396" as best as I can make it out. The chicken wire configuration is correct, the chicken wire was period apples, it's a natural aged five twist European wire - large hex. The wire configuration on this helmet would be considered a large hex "half basket" with visor hooks. Helmets that used chicken wire as camouflage, were typically found in the Italian or French theaters from 1943 to 1944. The surrounding Farm land in these areas were abundant with chicken wire fences and stock pens. 
The Liner is in great shape, light brown leather, with normal wear and discoloration from use. The liner is all original, all rivets/split pins and washers intact. The liner has the size marking "56". 
This is a great WWII German SS single decal chicken wire camouflage helmet. The colors and the condition of this helmet looks absolutely fantastic. This is a very nice and rare helmet, period correct and all original. Helmets with original period applied chicken wire are rare, and compounding the rarity of this helmet is the single runic shield "SS" decal, and the Normandy painted camouflage. This is a fantastic helmet for any collection and is of museum quality.  Great example of a German Elite M40 Helmet Single Decal, Normandy Camouflage, with chicken wire. Add this to you collection or museum today, it won't last long.