GUARNTEE TO BE ORIGINAL, 15 DAY INSPECTION PERIOD
WWII U.S. Helmet Steel Pot, Fixed Bale, Front Seam w/Capac Liner, 506th PIR, 101 Division "Screaming Eagles", -ORIGINAL RARE-SOLD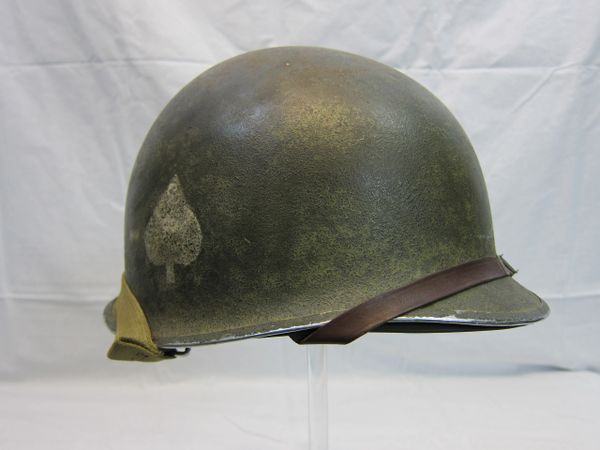 WWII U.S. Helmet Steel Pot, Fixed Bale, Front Seam w/Capac Liner, 506th PIR, 101 Division "Screaming Eagles", -ORIGINAL RARE-SOLD
Description
Original WWII U.S. 506th "Steel Pot" Helmet - Front Seam/Fixed Bale w/Capac Liner - Period painted with 506th PIR spade on each side, Tic mark at 9:00 indicating 3rd Battalion. Non-Commissioned Officer Horizontal Bar on back
 THIS IS A RARE HELMET- In great battle used condition
This all original helmet was in the 3rd Battalion, 506th Parachute Infantry Regiment, of the 101st Airborne Division, "Screaming Eagles" 
The helmet is an all original WWII U.S. "Steel Pot" Helmet.  This is the early helmet with the Front Seam, Stainless Steel Rim and fixed Bales.  One of the bales has been period fixed, this is not uncommon for a fixed bale. If the helmet was dropped on the bale it could break off. This is one of the reasons the Army went from fixed bales to swivel bails. The helmet has the original paint over the original cork finish with the 506th Spade and 3rd Battalion Tic at 9:00. on the outside. NCO horizontal bar on back, all period applied, not a replica or repaint. Normal wear on the paint, mainly around the rim as would be expected from battlefield use.  There are NO major dents, there is a small ricochet dent in the back, shown in the pictures.  It has the original sewn to the bale chinstraps. The lot production Number "55C" is stamped inside front, under brim of the shell.    
The liner is a Capac Liner, with manufactures mark stamped lightly on the inside of the liner "CAPAC" in a cross intersecting with CAPAC as would be proper for a WWII liner. The liner has original paint finish, and has that period used look, and in great shape.  It is complete with the original correct khaki color webbing for this liner.  The sweat band is original, with the correct color suspension system. Leather chin strap is original, nice brown color, green coated brass cam, secured to liner using rounded studs.     
This is an all original WWII Steel helmet, with a great battle feel, identified markings to the 3rd. Battalion, 506th PIR, 101st Airborne Division "Screaming Eagles" as marked on the sides of the helmet with period painted spades and 9:00 tic. Non-Commissioned (NCO) officer horizontal bar on the back of the helmet. This is the top of the line for Original WWII US Helmets, this helmet is unique in the fact that it is a 506th PIR helmet with no airborne liner. There are a few examples of this being done in the battle of Bastogne for replacement soldiers, or replacement helmets when damaged. This would be a helmet that collector would want, it is unique, it is in great shape and it is from a desired army division.
It's hard to find great original M1 Helmets offered for sale, and even harder if they are identified with markings to a division and even more desirable when it is the 506th PIR of the 101st Airborne Division.. When these are out there in the market the don't last, collectors grab them up fast, and this one is the best. This is a really neat piece, don't miss out on this rare opportunity to own a real piece of history.  -SOLD-