GUARNTEE TO BE ORIGINAL, 15 DAY INSPECTION PERIOD
WWII U.S. M1 Helmet Swivel Bale Front Seam w/Westinghouse Liner, Marked 3rd Inf. Div. - ORIGINAL RARE-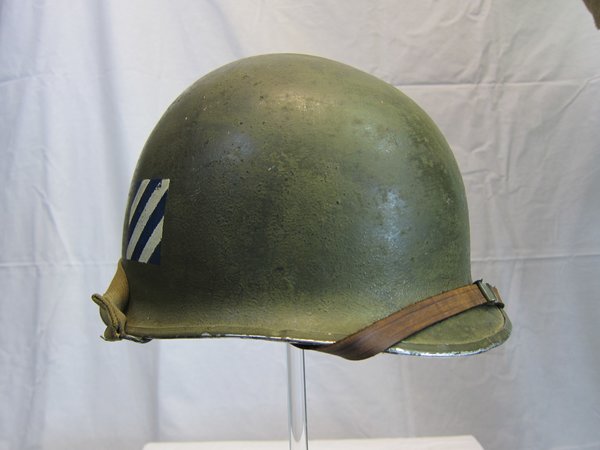 Description
Original WWII U.S. M1 "Steel Pot" Helmet - Front Seam/Swivel Bale w/Complete Westinghouse Liner - Period painted with 3rd Infantry Division on both sides of the Helmet.
THIS IS A RARE HELMET- In great battle used condition
This all original WWII U.S. M1 "Steel Pot" Helmet is the early helmet with the Front Seam, Stainless Steel Rim and Swivel Bales. The helmet has the original paint over the original cork finish with the 3rd. Division period painted on the sides. Normal wear on the paint, mainly around the rim. There are NO major dents, a small dent on top, and some small dings to the helmet as would be expected with a period piece. It has the original sewn to the bale chinstraps. The production Number is 858B, stamped inside front under brim of the shell.
The liner is a Westinghouse Liner, as identified by the circle "W" manufactures mark stamped on the underside crown of the liner "W in a circle". The liner has original paint finish, and looks period used, but good. It is complete with the original khaki color webbing. The sweat band is original, with the khaki color suspension system. The manufacturer markings are on sweet sweat band. Correct brass coated clips are used as retainers. Leather chin strap is original, nice brown color, with no cracks or tears.
This is an all original WWII U.S. M1 Steel helmet, with a great battle feel, and identified to the 3rd. division, as marked on the side of the helmet, the type of helmet that all the top collector desire.
It's hard to find great original U.S. M1 Helmets offered for sale, and even harder if they are identified with markings to a person, unit or division. When there out there, collectors grab them up. Don't miss out on this opportunity to own a real piece of history.
The 3rd Division is one of the few divisions of the U.S. Army during World War II that fought the Axis on all European fronts, and was among the first American combat units to engage in offensive ground combat operations. The 3rd Infantry Division saw combat in North Africa, Sicily, Italy, France, Germany and Austria for 531 consecutive days.