GUARNTEE TO BE ORIGINAL, 15 DAY INSPECTION PERIOD
1930s US Army Officer Cavalry Uniform, rare, not many survived. ORIGINAL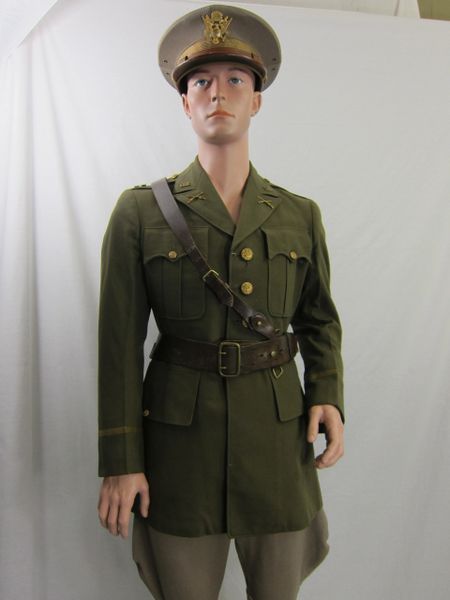 1930s US Army Officer Cavalry Uniform, rare, not many survived. ORIGINAL
Description
This is a 1930s US Army officers "captain" riding uniform. This is vintage gear that all officers were expected to have and be able to ride. The grouping includes his US Army uniform riding trousers, his US Army Jacket with captain bars and officers belt, and his officers cap. General Patton trained the last cavalry troops at Fort Leavenworth, Kansas before he developed tank warfare. it's interesting to note that in 1939 the US had the 14th largest army in the world, by 1945 the US had the largest.
There are not many of these uniforms that survived the war.  Nice show piece of history, nice to add to any US Cavalry uniform collection.
See our - World War I McClellan Saddle with gear, including rifle scabbard, saddle bags, feed bag and blanket. Nice original saddle used in WWI by US forces in Europe and after the war. Would go good with this grouping.
NOTE: THE MANNEQUIN IS FOR DISPLAY ONLY AND NOT PART OF THE GROUP.