GUARNTEE TO BE ORIGINAL, 15 DAY INSPECTION PERIOD
Civil War - Confederate Lieutenant's Artillery Kepi, with Oilcloth Rain Cover - ORIGINAL VERY RARE - SOLD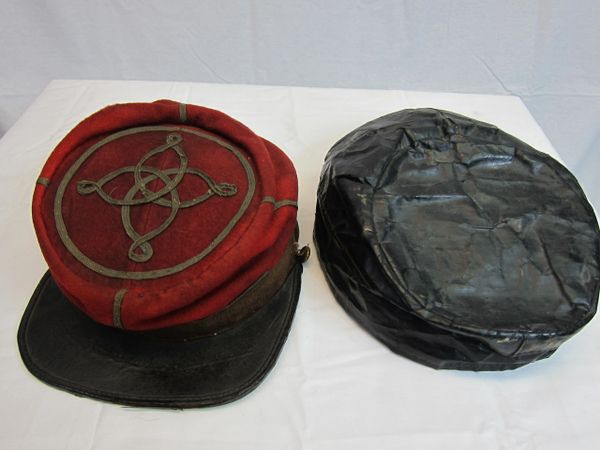 Civil War - Confederate Lieutenant's Artillery Kepi, with Oilcloth Rain Cover - ORIGINAL VERY RARE - SOLD
Description
Original Confederate Lieutenant Artillery Kepi
- Period Correct, with Very Rare Oilcloth Rain Cover -
 THIS IS A GREAT CONFEDERATE KEPI - In great period used condition
This is an all Original Confederate Lieutenant officer's Artillery Kepi, with rare oilcloth rain cover. This confederate Artillery Officers kepi is made from a very soft, red wool broadcloth and is accented by a 1/8" wide flat gold braid with a single strand quatrefoil on top. The band is reddish brown cloth and measures 1 1/8" wide at the back and I" at the front. The kepi comes with the original and very rare oilcloth rain cover.
The lining of the kepi is integral with the body as both pieces are sewn together and share the same seam. The cotton flannel lining has a series of dark brown printed squares. The lining and poor quality materials indicate that it is American in origin. There are two brass buttons, tin backed, each 1/2 ' in diameter, each of a different pattern. A very rare survivor, especially the oilcloth rain cover for the kepi. This kepi was part of Bill Turner's collection, a noted Civil Wat collector. According to Bill Turner, notes from Les Jensen, there were some minor repairs done, otherwise generally original. A similar example is illustrated on page 170 in the Time-Life series.

This Kepi is accompanied by Les Jensen (The No. #1 Authority on Civil War Cloth in the world) letter of authenticity and research.  Les Jensen noted: "This cap is correct for a Confederate Artillery Lieutenant and appears to be generally original". "This appears to be a good example of a Confederate kepi for a Lieutenant of Artillery". "The collection from which it came included a good battleflag, as well a various Confederate accoutrements with Louisiana affiliations".
This would make a great addition to any fine collection or museum.