GUARNTEE TO BE ORIGINAL, 15 DAY INSPECTION PERIOD
Civil War - Confederate Staff Officers Kepi, Virginia State Seal visor buttons - ORIGINAL VERY RARE -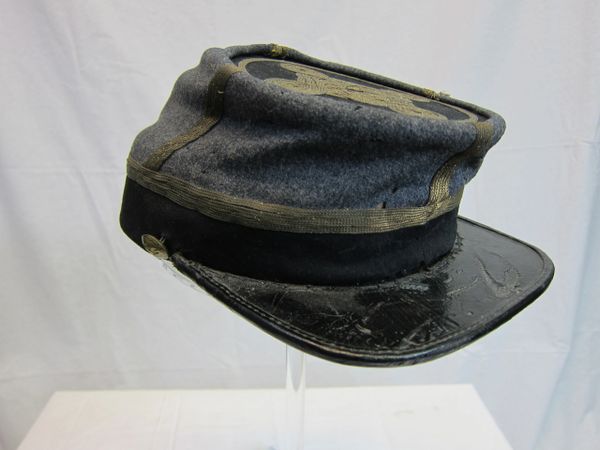 Civil War - Confederate Staff Officers Kepi, Virginia State Seal visor buttons - ORIGINAL VERY RARE -
Description
Original Confederate Staff Officers Kepi
- Period Correct, Virginia State Seal Buttons -
 THIS IS A GREAT CONFEDERATE KEPI - In great period used condition
This is an all Original Confederate Staff officers Kepi, has Virginia State Seal Visor Buttons. The kepi is constructed from grey wool broadcloth with a tabby weave and black wool band and crown. The kepi is accented by a 3/32" wide flat double gold braid up the back seam, front and at an angle to the top with a triple-strand qua-trefoil on top. The visor is of single thickness, black patent leather and is very good condition, may have been replaced, or resewn and repaired. This wonderful example of a Confederate Staff Officers Kepi shows the classic proportions for the Civil War period. Extremely well made and well tailored, the silk dress lining is a unique indication of Confederate manufacture. A very rare Confederate Kepi and identical to what Confederate General Walter H. Stevens would of have worn while serving on lee's staff. The Virginia State Buttons may have been resewn in place. The balance of the kepi appears to be totally original and period correct. This is an amazing confederate field officers kepi, a very hard to find kepi in this high quality shape.
This Kepi is accompanied with letter by Les Jensen (The No. #1 Authority on Civil War Cloth in the world) letter of authenticity and research. Les Jensen - "Conclusion: Based on over thirty years of examining and documenting Civil War uniforms, my conclusion and opinion is that this is a very good example of a Civil War period kepi, most likely that of a southern field officer.  With the exception of the replaced visor and possibly resewn buttons, it appears to be totally original. Congratulations on a fine acquisition."
Very, very rare, would make a great addition to any museum, fine collection or top end display. Get this while we still have it, this amazing confederate kepi can be yours.