GUARNTEE TO BE ORIGINAL, 15 DAY INSPECTION PERIOD
Korean War - North Korean Army Officer's Uniform Group - ORIGINAL RARE -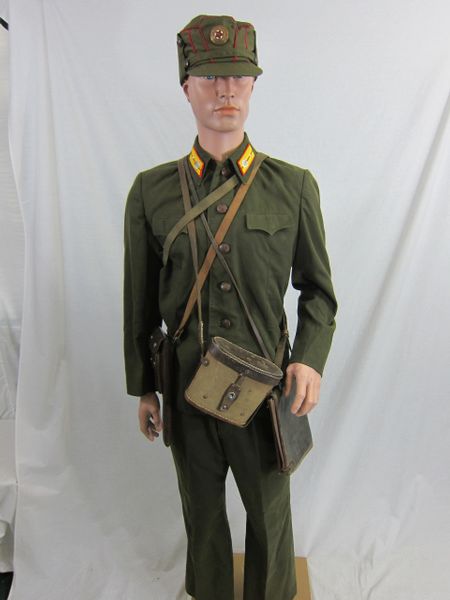 Korean War - North Korean Army Officer's Uniform Group - ORIGINAL RARE -
Description
Original Complete North Korean Army Officer's Uniform Group
- Korean War, North Korean Officer Uniform -
 THIS IS A NICE DISPLAY GROUPING - In great battlefield condition
This is an excellent museum quality Korean War all original, North Korean Officer's Group. The grouping consists of 1). A battle worn North Korean Officer's Jacket, all original, great battle worn shape. 2). North Korean Officer's Pants. 3.) North Korean Officers leather belt pistol case, with magazine pouches attached, original and in great shape. 4.) North Korean Officers small canteen, with strap. 5.) North Korean Officers Cap, great shape, lining has been replaced, hat emblem is in great shape, oringinal and real nice. 6.) North Korean officers map case. 7.) North Korean (Chinese supplied) binocular case.
This is a real nice display piece that would go great with any nice war collection or great museum. 
This grouping came out of a prestigious museum back east when they sold out their entire collection, The Veterans Museum in Pigeon Forge, Tennessee.
NOTE: THE MANNEQUIN IS FOR DISPLAY ONLY AND NOT PART OF THE GROUP.