GUARNTEE TO BE ORIGINAL, 15 DAY INSPECTION PERIOD
Korean War - North Korean Army Quilted Winter Combat Uniform Grouple, - ORIGINAL VERY RARE -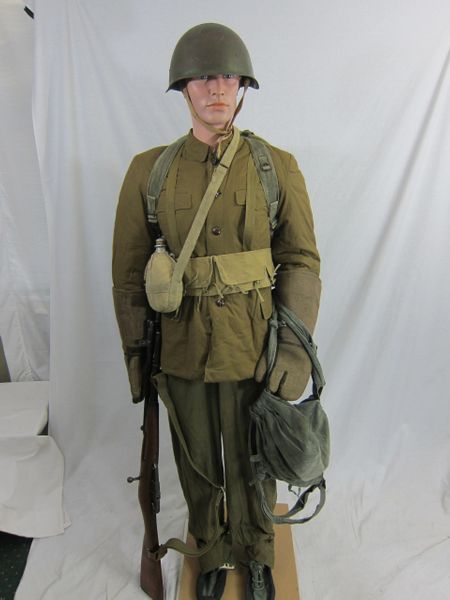 Korean War - North Korean Army Quilted Winter Combat Uniform Grouple, - ORIGINAL VERY RARE -
Description
Original Complete North Korean Army Quilted "WINTER" Combat Uniform Group
- This Grouping could of been at the Chosin Reservoir Battle -
 THIS IS A VERY NICE DISPLAY GROUPING - In great battlefield condition
This is an excellent museum quality Korean War all original, North Korean combat winter uniform group. This is a winter combat uniform, the soldier that wore this uniform may have participated in the battle of the Chosin Reservoir.  This would be correct for the type of uniform that was worn by the North Korean Army at that battle. The grouping consists of - 1). A battle worn North Korean Army Quilted Combat Winter Uniform, all original, great battle worn shape. 2). North Korean Army trousers. 3.) North Korean "Chinese" soldiers ammo / magazine Bandoleer canvas belt, original and in great shape. 4.) North Korean soldiers regular issued canteen, with canvas cover, with the intact canvas strap. 5.) North Korean soldiers Army bag, great shape. 6.) His North Korean Army issued backpack with blanket. 6.) His North Korean shoes.  7.) North Korean Helmet with name inside Jun Sun Lee.
This is a fantastic display that would go great in any museum or great collection. 
This grouping came out of a prestigious museum back east when they sold out their entire collection, The Veterans Museum in Pigeon Forge, Tennessee.
NOTE: THE MANNEQUIN IS FOR DISPLAY ONLY AND NOT PART OF THE GROUP.
NOTE: THE MOSIN-NAGANT M44-CARBINE IS A NON-FIRING DEMILLED ORIGINAL, NOT INCLUDED IN THIS GROUPING, IT'S FOR DISPLAY ONLY, GO TO OUR MILITARY WEAPONS AND ARMAMENTS TO PURCHASE.