GUARNTEE TO BE ORIGINAL, 15 DAY INSPECTION PERIOD
U.S. WWII M1 Garand Rifle 10 inch Bayonet, by American Fork & Hoe - ORIGINAL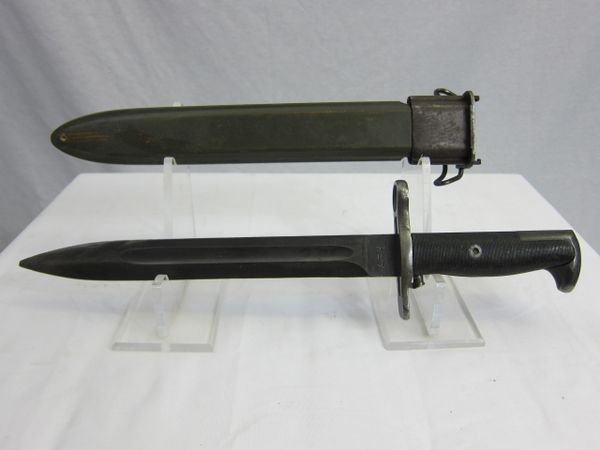 U.S. WWII M1 Garand Rifle 10 inch Bayonet, by American Fork & Hoe - ORIGINAL
Description
Original M1 US Bayonet, excellent condition, made by American Fork & Hoe,
10 inch blade, overall length 14.50 inches. This was used for the M1 Garand, considered a MI Grand Bayonet, it's complete with US
marked blade and has the US Ordnance flaming cannonball. The bayonet is in excellent condition. This was purpose built as a 10" bayonet, not a cut down 1905 version, it was manufactured by American Fork & Hoe in later WW2 manufactured. It comes with an original M7 fiberglass scabbard which is solid, with no cracks or damage, marked with the US flaming bomb. Nice original item, will finish of a WWII collection nicely.