GUARNTEE TO BE ORIGINAL, 15 DAY INSPECTION PERIOD
USS Arizona - Pennant Swallowtail Flag, w/13 stars in a military shield - ORIGINAL RARE -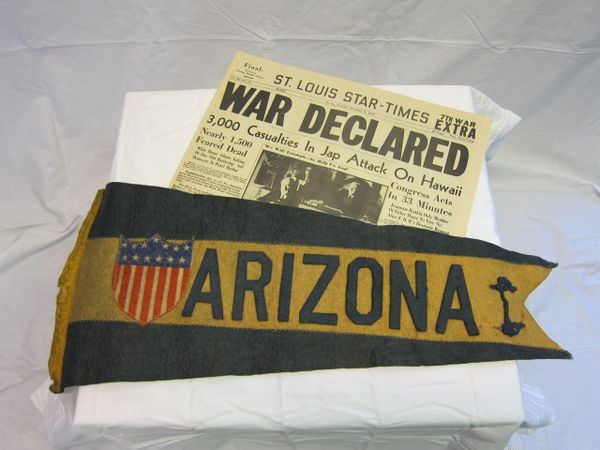 USS Arizona - Pennant Swallowtail Flag, w/13 stars in a military shield - ORIGINAL RARE -
Description
Original 1930, 24" Pennant, Swallowtail flag from the USS Arizona
- Included a 1930s movie prop Navy sailor's uniform -
 THIS IS A RARE PENNANT SWALLOWTAIL FLAG - From the USS Arizona
This is a original 1930's pennant swallowtail flag from the USS Arizona, 24 inches long and in nice shape for the history it has. The pennant has the old style military shield with the thirteen stars (original thirteen states) on the left side, "ARIZONIA" center and an anchor on the right, indicating ship. Very few of these pennant flags were produced, and not many around today. These items were sold in the 1930s to the sailors aboard the ships as souvenirs. The sailors keep them as a keepsakes or sent them home to family and friends. Not many were made and only a few are known to have survived today.   
In addition, and to make this a nice display group, at no charge we have included a 1930s Navy uniform used as a movie prop from the thirties, about the same timeframe as the pennant flag. The uniform is a Navy Sailors dress uniform, it's stamped inside - "Hollywood Movie Costumes, LLC. Oak Hills, Calif." and stamped on the bottom "Paramount Wardrobe". The blouse was made by "Pancraft", and on another sewn label it indicates that the garment was "Sanforized" to prevent shrinkage. These exact same tags and anchor buttons were found on a similar blouse used by Bing Crosby in the 1934 movie, by Paramount Pictures - "We're Not Dressing" staring Bing Crosby, Carol Lombard, George Burns and Grace Allan. Nice movie costume, even down to the anchor buttons. Nice movie costume piece from the 1930s  and who knows, this blouse could of been worn by George Burns, (its a small size)? Nice display piece with a little history from the 1930s movie industry.  In addition we have added a nice post copy of a December 8th 1941 News Paper to round out the display at no charge.
The main item for sale here is the all original USS Arizona Swallowtail Flag from the 1930s. It's hard to find anything original from the USS Arizona, and when they come up they sell fast. Nice rare collectors piece.