GUARNTEE TO BE ORIGINAL, 15 DAY INSPECTION PERIOD
Vietnam War U.S. M60 Machine gun, Chambered in NATO 7.62mm, Demilled, Non-Firing - ORIGINAL VERY RARE - SOLD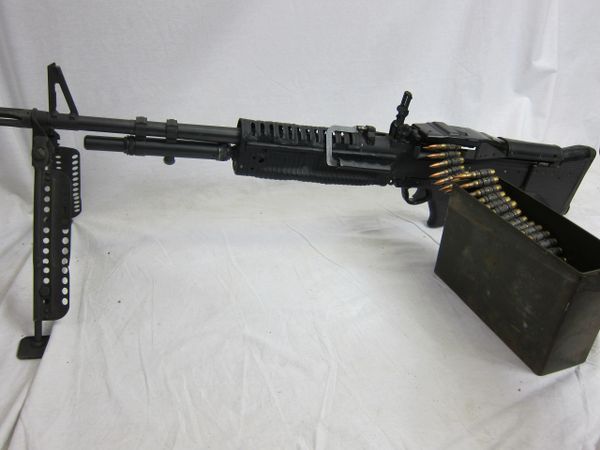 Vietnam War U.S. M60 Machine gun, Chambered in NATO 7.62mm, Demilled, Non-Firing - ORIGINAL VERY RARE - SOLD
Description
Original Vietnam War, US M60 Machine Gun "Demilled"
- U.S. M60 Vietnam War, Original Non-Firing 7.62 NATO Round -
 THIS IS A REAL NICE DISPLAY - In great battlefield condition
This is an excellent display gun for your U.S. Soldiers of the Vietnam War. This is an original battle used M60 Machine Gun demilled, Non-Firing display. This is a very good original example of the classic U.S. M60 Machine Gun used by the U.S. Army, Marines and Navy for troop support. All original parts (except upper receiver) , upper receiver is a non-working blank. Serial number stamped on the original lower receiver fire control "7269203"  The bipod serial number is 7793010 This U.S. Vietnam War M60 Machine Gun looks and feels just like a live gun, but cannot be made to fire.
The U.S. M60 Machine Gun is an adaptation of the WWII German MG 42 machine gun and has been the general purpose machine gun used by the U.S. forces since it's introduction in the early 1960s. The M60 is chambered for the 7.62mm NATO cartridge. Part of this collection is a original U.S. M60 Ammo Can with dummy rounds for display, a original newer version operators manual for the "M60 7.62-mm Machine Gun" and a pair of M60 Asbestos Gloves for changing out the very hot barrels after heavy engagements. The M60 Asbestos Gloves were supplied with each M60 Machine Gun by the U.S. military. 
This is a very hard item to find and they just don't last when they come up for sale.This would make a great part of any collection or fine museum, add this fine Vietnam War U.S. M60 Machine Gun to your collection today. 
Nice addition to any museum, display, or collection.  SOLD
"THIS GUN IS DEMILLED and CAN NOT BE MADE TO FIRE"