GUARNTEE TO BE ORIGINAL, 15 DAY INSPECTION PERIOD
Vietnam War - US Navy "Swift Boat" River Patrol Uniform, Petty Officer Miller - ORIGINAL RARE -SOLD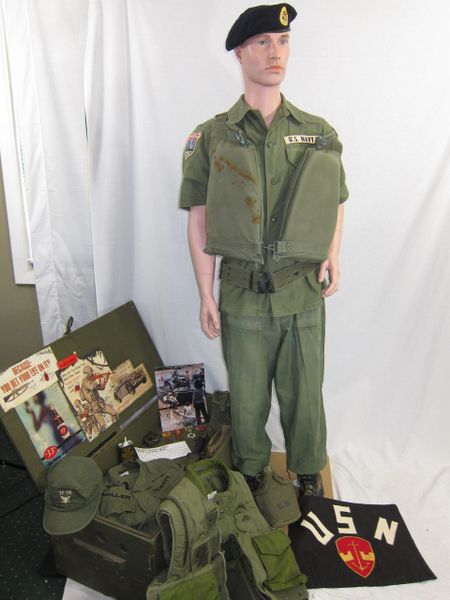 Vietnam War - US Navy "Swift Boat" River Patrol Uniform, Petty Officer Miller - ORIGINAL RARE -SOLD
Description
Original Vietnam War US Navy River Patrol Grouping
Uniform of US Navy Petty Officer (3rd Class) Miller
 THIS IS A RARE GROUPING - In great Battle used condition
This is a fantastic original U.S. Navy "Swift Boat" River Patrol Force grouping. Identified to U.S. Navy Petty Officer (3rd Class) Miller. The grouping consists of the following: Petty Officer Miller's summer uniform, his short sleeve shirt, his pants, boots, his jacket, his beret, ball cap, canteen, his life vest, his army trunk, his knife, his patrol flack jacket, three metals, his compass, his belt / pouches and his personal United States Navy "USN" River Patrol Flag. 
The U.S. Navy River Patrol Force in Vietnam was also known as the "Swift Boat Patrol" or the "Brownwater Navy". The job of the Brownwater Navy was to endlessly patrol the waterways of South Vietnam, board vessals for inpection and run patrol on the muddy waterways of the Mekong Delta. As in most places water was a crucial source of transportation, and the patrol of South Vietnam's waterways by the Brownwater navy was intended to deny this critical resource to the enemy. Service in the Brownwater Navy was one of the most dangerous jobs in the U.S. Navy in Vietnam.
This grouping came out of a prestigious museum back east when they sold out their entire collection over ten years ago. This grouping had been in the museum for many years prior. The Veterans Museum in Pigeon Forge, Tennessee.

This is a fantastic grouping of an identified U.S. Navy Petty Officer "Miller" that served on the river patrol.  (This is the only known complete U.S. Navy Identified River Patrol Force grouping ever offered for sale)  This grouping would make a great display for any private collection or museum. Groupings like this won't last, get it while you can, add it to your collection or museum today.
NOTE: THE MANNEQUIN IS FOR DISPLAY ONLY AND NOT PART OF THE GROUP. - SOLD -