GUARNTEE TO BE ORIGINAL, 15 DAY INSPECTION PERIOD
Vietnam War - Viet Cong Black Pajama Type Enlisted Man's Uniform - ORIGINAL RARE - SOLD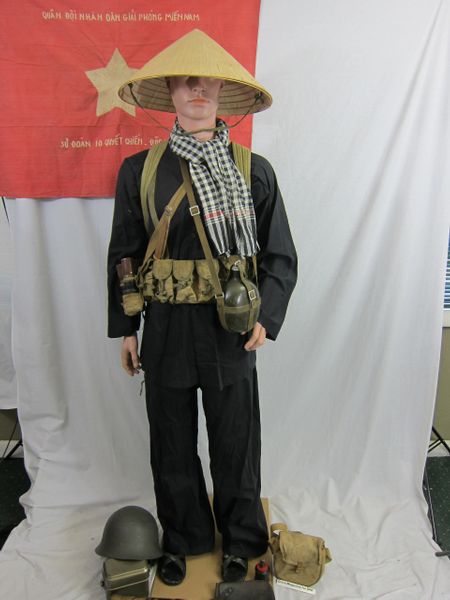 Vietnam War - Viet Cong Black Pajama Type Enlisted Man's Uniform - ORIGINAL RARE - SOLD
Description
Original Vietnam War, Viet Cong Uniform Grouping
Uniform of Viet Cong Soldier
 THIS IS A RARE GROUPING - In great Battle used condition
This is a fantastic original Viet Cong Uniform Grouping, black pajama style. This uniform grouping was taken of a captured Viet Cong soldier on the boarder between South Vietnam and Cambodia. This grouping came out of a prestigious museum back east when they sold out their entire collection over ten years ago. This grouping had been in the museum for many years prior. The Veterans Museum in Pigeon Forge, Tennessee. The grouping includes: His black pajama style shirt and pants, his Viet Cong scarf, scout straw hat, battle helmet, green pith helmet with red star on front, his Viet Cong back pack, his battle flag, his Viet Cong ammo belt, his canvas grenade pouches, his RPD drum mag w/canvas bag pouch, his North Vietnam issued aluminum mess tin, his sandles, his entrenching tool "shovel", Vietnam chop sticks, home made bamboo knife, and three North Vietnam style dummy grenades thrown in at no charge.  
This is a fantastic grouping of a captured Viet Cong soldiers uniform grouping. This grouping would make a great display for any private collection or museum. You don't see complete groupings like this from a captured soldier. Add this grouping to your collection or museum today. - SOLD-
NOTE: THE MANNEQUIN IS FOR DISPLAY ONLY AND NOT PART OF THE GROUP.