GUARNTEE TO BE ORIGINAL, 15 DAY INSPECTION PERIOD
WWI - German M17 Helmet, with Original Leather Liner and Canvas Style Strap - ORIGINAL RARE -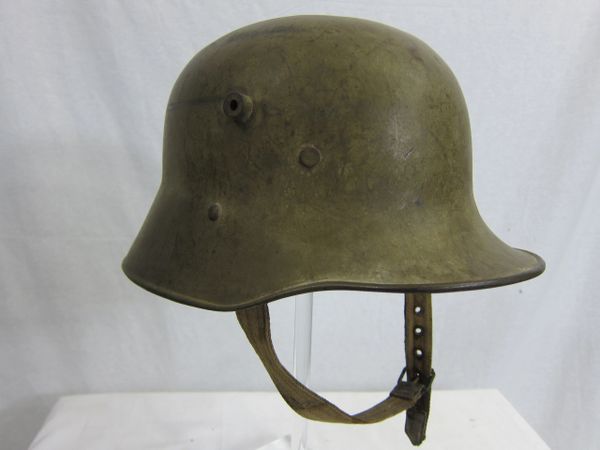 WWI - German M17 Helmet, with Original Leather Liner and Canvas Style Strap - ORIGINAL RARE -
Description
Original WWI German M17 Helmet, With Original Leather Liner and Canvas Chinstrap 
- Marked inside Helmet R929, Stamped Leather Liner, Liner Band Metal (M17) -
 - THIS IS A RARE HELMET- In Great Battle Used Condition -
This is a fantastic, untouched original German M17 Helmet, with original Leather liner and metal liner band. The leather is stamped, hard to read, "1918 ?". The top inside of the helmet is stamped with the heat mark "R929". The helmet still has two of the three horse hair pillows. All rivets are in tact and original with the exception of the back liner rivit, its been replaced at some point. The chinstrap is rare, canvas style, original to the helmet and in good shape. The patina is fantastic on this original untouched helmet, you can really tell the real thing with this helmet. It has a small nail hole in the top of the helmet, placed there by the vet who brought it back home from the war.
I acquired this helmet some fifteen years ago from a gentleman who was given the helmet from an 89 year old lady who's father had brought the helmet home from the war. The helmet was up in the attic nailed to a cross when the gentleman retrieved it. 
This is a fantastic piece of history and is a rare item. This would make a great addition to any high end collection, or museum.