GUARNTEE TO BE ORIGINAL, 15 DAY INSPECTION PERIOD
WWI - U.S. Army McClellan Saddle Grouping, Complete with all the Gear - ORIGINAL -SOLD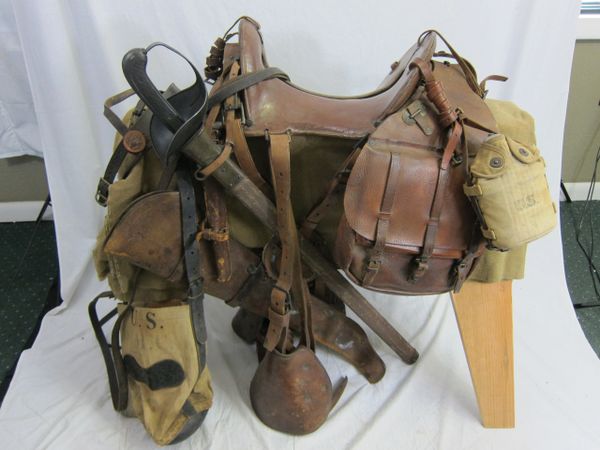 WWI - U.S. Army McClellan Saddle Grouping, Complete with all the Gear - ORIGINAL -SOLD
Description
Original WWI U.S. Army McClellan Saddle Grouping
Complete WWI U.S. Army Saddle 
 THIS IS A RARE GROUPING IN THIS CONDITION - In great Battle used condition
This is a World War I McClellan Saddle with all the gear, ALL THE GEAR. The grouping includes: His Patton Sword This is an all Original WWI US Model 1913 cavalry sword. The sword was designed by Lt. George S. Patton in 1913, latter to become General Patton of the third army WWII. This sword is marked well and is in great shape. Makers mark on the right side blade "L.F.& C." with the US inspection stamp flaming bomb, in the middle. Under is the date manufactured "1918". On the left side is the "U.S." mark and "No12"  The blade is in great shape and has problems. The wood scabbard is cover with canvas and is in great shape, with it large basket and saddle rings, all there and correct. His rifle scabbard, farriers tool and leather holder, saddle bags, feed bag blanket and more. Nice original saddle used in WWI by US Calvary forces in Europe. 
This WWI McClellan Saddle is in fantastic shape, over 100 years old and looks like new. This would be a great addition to any high end collection or museum. Saddles in this great of shape are very hard to find, get this one before it's gone. - SOLD -
NOTE: THE SAWHORSE IS FOR DISPLAY ONLY AND NOT PART OF THE GROUP.