GUARNTEE TO BE ORIGINAL, 15 DAY INSPECTION PERIOD
WWI - U.S. Marines "Devil Dog" Combat Uniform - ORIGINAL RARE - SOLD -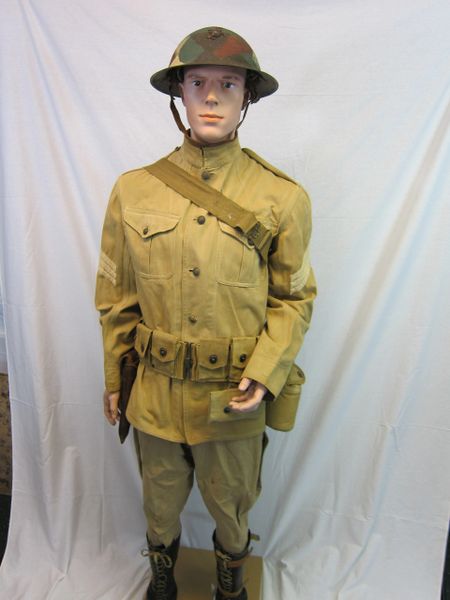 WWI - U.S. Marines "Devil Dog" Combat Uniform - ORIGINAL RARE - SOLD -
Description
Original Cotton Summer Uniform, WWI U.S. Sergeant,
- U.S. Marines Devil Dogs Uniform -
 THIS IS A RARE GROUPING - In great used condition
World War I summer trench warfare uniform - Cotton summer tunic with sergeant chevrons on the arms. Buttons are all WWI U.S. Marine original. The pants are the ridding WWI style with high top lace up ridding battle boots. All original and period correct WWI. The helmet is a WWI field period painted with a Marine Corps emblem on the front. The helmet has an original period leather chinstrap and nice original helmet liner. The field battle belt is intact original and period correct, dated 1918. It has with it a U.S. Colt 1911 holster dated 1918, WWI first aid kit dated 1918, U.S. dated 1918 canteen cover and WWI canteen and cup. 
Rare and hard to find, most of these were thrown away in Europe as the US Marines wore their dress uniforms home. These combat uniforms were dirty, worn out and readily discarded at the end of the war. Hard to find a WWI Marine combat uniforms, nice add to any collection, will just go up in value over the years.
NOTE: THE MANNEQUIN IS FOR DISPLAY ONLY AND NOT PART OF THE GROUP. - SOLD -