GUARNTEE TO BE ORIGINAL, 15 DAY INSPECTION PERIOD
WWII British Paratrooper Helmet MKII, Dated 1944 -ORIGINAL VERY RARE-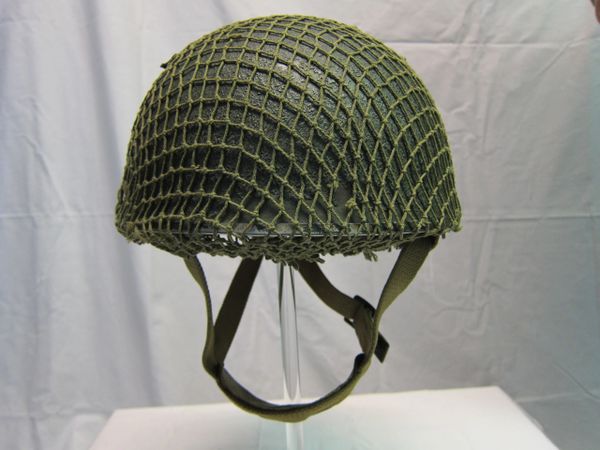 WWII British Paratrooper Helmet MKII, Dated 1944 -ORIGINAL VERY RARE-
Description
Original WWII British Paratrooper Helmet, 1944 Dated
- Arnhem / Normandy - 1944? -
 THIS IS A RARE HELMET- In great Battle used condition
The helmet is a MKII British Paratroopers, all original parts, never touched. The Shell is a non-magnetic manganese steel basic shell.  The color, weave and texture of the web chin harness is original and period correct. The outer color of the shell is a browner shade of olive drab. The interior top thin protector pad of the shell is circular and of a black smooth material. The metal buckles/fittings on the web harness are of a black anodized finish. The manufacture of this helmet is stamped on the leather liner band, a light tan color. It is stamped = "BMB" on top of the liner band, and under the BMB is stamped the following = "19 on the left side of a shield with the size 7 3/4 in the shield center and 44 on the right of the shield". BMB is the manufacture (Briggs Motor Bodies Ltd. of Dagenham) the 19 and 44 on each side of the shield is the year (1944) the 7 3/4 in the shield is the helmet size. The leather liner band is in good condition for it's age but has noticeable wear from use. There is a name written in ink on the leather liner band = "RENDELL". The MKII helmets were issued from February 1944, just in time for some major battles. The helmet is all original, period correct, untouched survivor. 
This helmet could be part of the British 1st Airborne division and took part in operation Market Garden on September 1944, or even part of the 6th Airborne Division on D-Day June 6th 1944. If this helmet could talk, the stories it could tell, a great historical Militaria item. 
This period correct all original, very rare survivor, is one of a kind, not many originals are known to exist. Most of the British paratrooper helmets were thrown away, turned into scrap after the war. This is a fantastic piece of history, all correct and original. This is the type of item that all the collector and museums would love to have. Add it to you collection or museum today.