GUARNTEE TO BE ORIGINAL, 15 DAY INSPECTION PERIOD
WWII British Royal Air Force Uniform of a "Spitfire" Fitter pilot KIA in the Battle of Britain over England - ORIGINAL VERY RARE -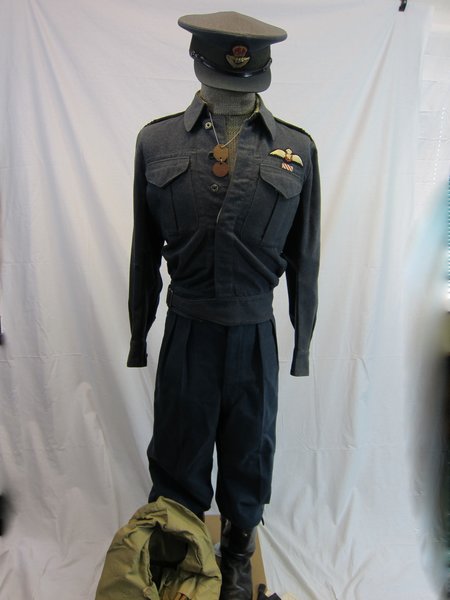 Description
Original WWII Royal Air Force "Spitfire", ID'd Group
"Spitfire Pilot" - "Battle of Britain"
THIS IS A RARE GROUPING - In great used condition
Uniform of Lt. Johnston a Royal Air Force "Spitfire" Fighter Pilot killed in the Air Battle of Britain. Lt. Johnston's Uniform, his leather gloves, dog tags, and his air corps life vest. A very rare and hard to find item, identified to a real hero. Any World War II Royal Air Force items are very hard to find, even harder to find identified item that were in a significant battle as the "Battle of Britain".
"This is our finest hour" speech of 18 June 1940, when British Prime Minister Winston Churchill declared that "the Battle of France is over. I expect that the Battle of Britain is about to begin. This is when the Royal Air Force ("RAF") defended the United Kingdom ("UK") against the German Air Force (Luftwaffe) attacks from the end of June 1940. It is described as the first major campaign fought entirely by air forces, it lasted 112 days. More than 3,000 aircraft were downed, from the estimated air crew of 3,000, only half about survived the three month battle. Lt. Johnston and his RAF Spitfire was in the thick of the battle, defending the United Kingdom. He was KIA at the end of the conflict, he was and always will be a real hero.
This grouping came out of a prestigious museum back east when they sold out their entire collection, The Veterans Museum in Pigeon Forge, Tennessee. This is a must for the serious collector or museum, one of a kind, great display of honor to a great fallen hero.