GUARNTEE TO BE ORIGINAL, 15 DAY INSPECTION PERIOD
WWII D-Day Invasion US Army Field Uniform - ORIGINAL - SOLD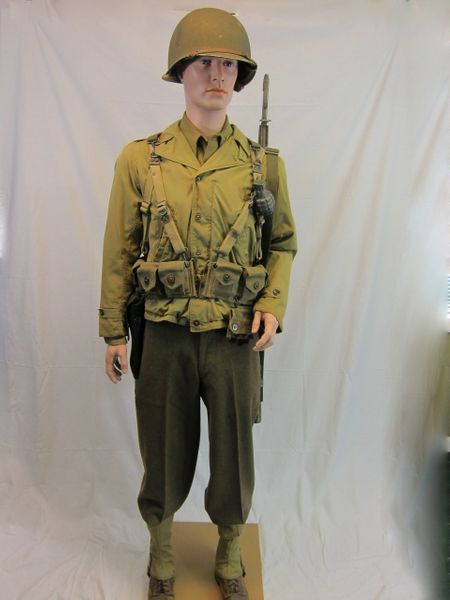 WWII D-Day Invasion US Army Field Uniform - ORIGINAL - SOLD
Description
Original WWII U.S. D-Day Invasion Grouping
D-DAY - Normandy
 THIS IS A RARE GROUPING - In great Battle used condition
This is a fantastic original U.S. Army D-Day Invasion Uniform Grouping. The grouping consists of the following: 1). US M-1 Army Helmet, front seam, fixed bales, lot No. 62E, all original period correct. Westinghouse original liner. 2). M41 original U.S. army field Jacket. 3). Standard army issued wool shirt. 4). Army issued tactical web belt. 6). First aid kit. 7). US canteen SM Co. 1944 and cover. 8). US M4 Bayonet. 9). Entrenching tool with cover (Shovel) dated 1942. 10). WWII 1911 leather holster. 11). WWII Goodyear Cap Toe Brown Leather Boots. 12). US WWII Army Leggings. All original and period correct, this is a great uniform grouping. Added at no charge is one replica US WWII grenade for a better display.
This type of uniform worn by the US Army during the D-Day invasion in Normandy Beach. Photographs of the 3rd Army soldiers awaiting the battle to come. These troops faced heavy fire from the German defensive line from machine gun fire and artillery. Nice item to display, great for any collection.
This grouping came out of a museum back east when they sold out their entire collection, The Veterans Museum in Pigeon Forge, Tennessee. This is a great grouping for any collector, museum or display. These fine displays don't last long, get while you can, add it to your collection, museum or display today.
NOTE: THE MI GRAND RIFLE IS FOR DISPLAY ONLY AND NOT PART OF THIS GROUPING. The M1 Grand Rifle is a reproduction and added for a better display. 

NOTE: THE MANNEQUIN IS FOR DISPLAY ONLY AND NOT PART OF THE GROUP. - SOLD -