GUARNTEE TO BE ORIGINAL, 15 DAY INSPECTION PERIOD
WWII German Afrikakorps Grouping, Personal Effects, ID'd NCO, -ORIGINAL VERY RARE-SOLD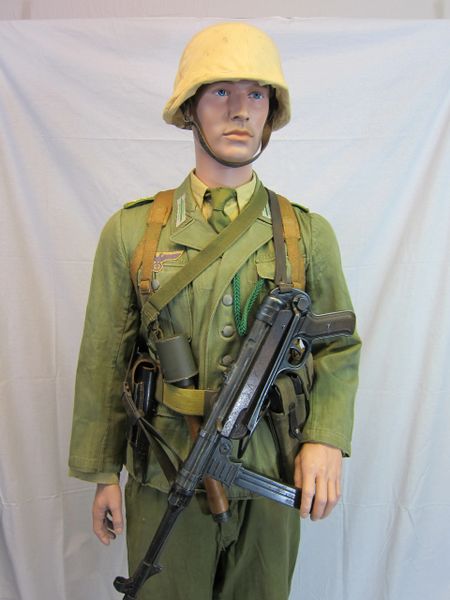 WWII German Afrikakorps Grouping, Personal Effects, ID'd NCO, -ORIGINAL VERY RARE-SOLD
Description
Original WWII German Afrikakorps Grouping, ID'd
- Out of the Rommel Afrikakorps Museum in Germany -
 THIS IS A RARE GROUPING - In great Battle Front used condition
This fantastic identified Original German Afrikakorps Grouping, out of the Afrikakorps Museum in Germany. The grouping is ID'd to Oberfeldwebel (Sergeant) Paul Georgi of the 23rd Panzer Division Afrikakorps (Note; The Picture shown above of him, has him in the same exact tunic as what is being offered in this grouping). He was everywhere in Africa, the grouping includes his written memoirs, and the translation into English. In his memoirs he takes you on his journey as a German soldier from Germany to France and then to Africa, where he fights in many notable battles. He surrenders with the remainders of the Army Group Afrikakorps on May 12th 1943, and taken as a POW to America. The grouping is simply outstanding, it includes his field uniform, gear, and many personal belongings. In his memoirs he talks about the battle of El Alamein in North Africa. His travels to Tripoli, the bombs that fell from American "Flying Fortresses" while he was at Bengasi Harbor, how the bombs knocked him off his feet and he thought he was about to die.  This is an important and heavily documented historical grouping, that has been in several prominent museums over the past fifty years. The uniform, the stories and the authenticity is remarkable. In the grouping there are many very very rare items that are only seen in books and in documentary films. In his memoirs he states that he wore this tunic throughout his time in the Afrikakorps and as a POW in America (Texas POW Camp). Important piece of history.
The grouping includes the following original army issued items to Oberfeldwebel Paul Georgi of the 23rd Panzer Division Afrikakorps : 1). The tunic issued to Oberfeldweber Paul Georgi, of the Afrikakorps, with his Oberfeldweber shoulder epaulets, same exact tunic as shown in the picture taken of him as a POW above. 2). His Afrikakorps pull over tropical long sleeve shirt and army tropical tie. 3). His button fly tropical long trousers. 4). His army issued web or tropical belt with D-ring attachments. 5). His nicely worn MP40 canvas magazine pouch. 6). His standard tropical web bayonet frog and bayonet. 7). His rare tropical Sturmgepack (assault pack). 8). His tropical web Y-straps. 9). His tropical carrying case. 10). His P.08 Lugar pistol holster. 11). His canteen and cup. 12). His tropical period painted M38 gas mask carrying canister. 13). His very rare tropical gas sheet pouch. 14). His rare folding tropical washbasin. 15). His M-31 tropical period painted mess kit. 16). His rare tropical cloth M-40 helmet cover and M-40 helmet. 17). His Afrikakorps glasses. 18). His Army olive drab canvas mittens. 19). His shaving kit w/canvas wrap. 20). His Afrikakorps tent, and rare period tropical painted tank tent mini heater. 21). His German Army Pass Port, stamped from the places he has been. 22). His Afrikakorps arm band, 23). His German Army issued duffle bag. 24). One each of his prior rank epilates. 25). His shoes and many other personal effects. (The MP-40 German Machine Gun is not included in this group, it is for display only, this is a non-firing original demilled gun.). All other items listed are part of this grouping.
The display grouping is all correct, period and original. The only reproduction item is the German grenade. This is a grouping that belonged to one individual soldier, a soldier that fought for Germany in Africa, we will not break up the group or sell individual item separately. It is our intent that this grouping stay together and intact. Any additional detail needed, please contact emilitariacollector.com
This is a fantastic grouping that you don't want to miss out on having in your collection or museum. This is the grouping everyone wants, everything being authentic and rarities you just don't find. It won't last, add it to your museum or collection today.  
NOTE: THE MP-40 IS A NON-FIRING DEMILLED WWII GERMAN MACHINE GUN AND IS NOT INCLUDED IN THIS GROUPING, IT'S FOR DISPLAY ONLY, GO TO OUR MILITARY WEAPONS AND ARMAMENTS TO PURCHASE.
NOTE: THE MANNEQUIN IS FOR DISPLAY ONLY AND NOT PART OF THE GROUP. -SOLD-