GUARNTEE TO BE ORIGINAL, 15 DAY INSPECTION PERIOD
WWII German Army Officer's Uniform, Rommel's AfrikaKorps -ORIGINAL VERY RARE - SOLD -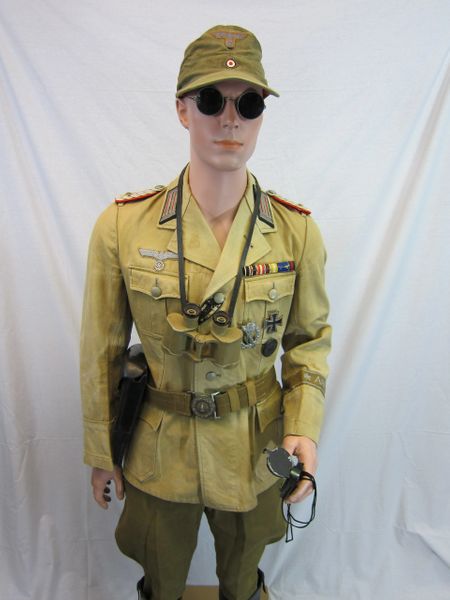 WWII German Army Officer's Uniform, Rommel's AfrikaKorps -ORIGINAL VERY RARE - SOLD -
Description
Original WWII German Afrikakorps Army Officers Group
"Afrikakorps Officer under General Rommel" -
 THIS IS A RARE UNIFORM - In great battle used condition
Fantastic example of an original AfrikaKorps army officers uniform commanded by the Field Marshal Rommel. Rommel's AfrikaKorps Army units were equipped high quality, lighter tan materials found to be more resilient in the scorching North Africa Desert. This grouping is all original and includes the following: 1). Complete Afrikakorps uniform as shown. 2). Officers field tunic with ribbons, metals, and epaulets, nice original period correct jacket. 3). His original army Afrikakorps issued web or tropical belt with two piece interlocking buckle. 4). North Africa ridding pants. 5). His high top officers black leather pull on jackboots. 6). Binoculars Dienstglas 6x30 "cag" w/built in range finder. 7). Afrikakorps issued field German campus. 8). Afrikakorps gas mask and container, period painted Afrikakorps. 9). 1942 German leather Lugar holster. 10). 1943 Afrikakorps canteen. 11). His underwear, night shirt, socks, and desert dust cloth wrap. 12). His glasses with case, and extra set with case no lenses. 13). Portable fire stove by "Esbit". 14). Issued Afrikakorps body flash light. 15). Afrikakorps issued German silver wear with German approval stamp. 16). His original Afrikakorps issued German Tropical Field Cap, great shape, all original period correct, the insignia's are real nice and sharp, proper size and shape for this cap. The eagle is original but appears to have been period field reattached, the army cockade is original, and period sewn. This Afrikakorps grouping is all original and period correct, a real nice example of the German officers uniform and personal belongings. 
This would be a great addition to any collection, top of the line, museum quality. Don't miss the opportunity to own such a fantastic piece of history, these item are getter more rare everyday.
This grouping came out of a prestigious museum back east when they sold out their entire collection, The Veterans Museum in Pigeon Forge, Tennessee.
NOTE: THE MANNEQUIN IS FOR DISPLAY ONLY AND NOT PART OF THE GROUP. - SOLD -