GUARNTEE TO BE ORIGINAL, 15 DAY INSPECTION PERIOD
WWII US WAAC Female Officer 1st Lieutenant Dress Uniform - ORIGINAL -SOLD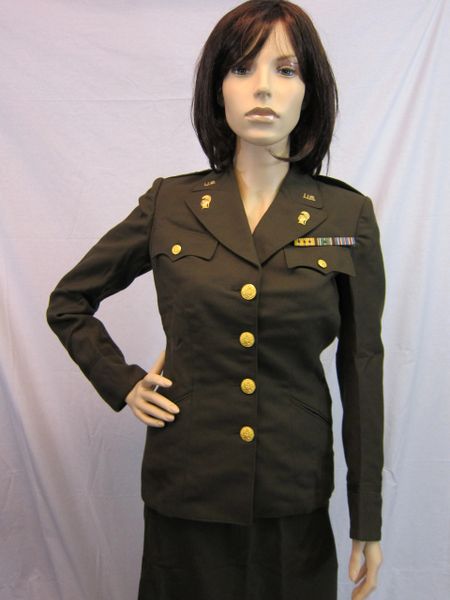 WWII US WAAC Female Officer 1st Lieutenant Dress Uniform - ORIGINAL -SOLD
Description
Original WWII US WAAC Female Officer 1st Lieutenant Dress Uniform
WAAC - "Women's Army Auxiliary Corps"
 THIS IS A GREAT UNIFORM - In great used condition
This period correct original dated 1943 WAAC "Women's Army Auxiliary Corps" 1st Lieutenant uniform is period correct, original, and in great shape. The tunic is size 12s, WAAC Collars, Ribbon bar, and 1st Lt. shoulder rank bars. Tunic pocket manufactures tag dated 1943. The skirt, WAAC, very good condition, period correct and original.
Museum quality, nice addition to any collection, or museum, nice female officer addition. - SOLD -
NOTE: THE MANNEQUIN IS FOR DISPLAY ONLY AND NOT PART OF THE GROUP.