GUARNTEE TO BE ORIGINAL, 15 DAY INSPECTION PERIOD
WWII German Kriegsmarine U-Boat Leather Jacket and Trouser Uniform, Dated 1942, - ORIGINAL -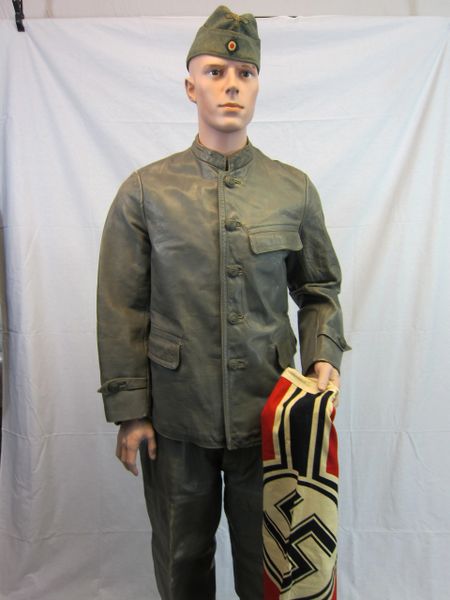 WWII German Kriegsmarine U-Boat Leather Jacket and Trouser Uniform, Dated 1942, - ORIGINAL -
Description
Original WWII German Kriegsmarine U-Boat Deck Jacket and Trouser Uniform
- U-Boat Deck Grey Leather Jacket and Trousers -
 THIS IS A RARE UNIFORM - In great Battle Front used condition
This outstanding original German U-Boat deck uniform is made of a grey leather and has Kriegsmarine buttons (Anchor), stamped on the back "EXTRA FEIN" secured on the back side with a plan fiber button. This is an outstanding two piece, grey leather deck uniform, as worn by lower ranked Kriegsmarine sailors, see picture above (same type of jacket). 
The jacket, is of heavy grey leather with five Kriegsmarine buttons on front, single row. With a stand up collar, hook closure, and single button row, this was the standard deck uniform used in the war on the German U-Boats by lower rank sailors. The officer would have the same color and leather in double breasted two rows of buttons. This jacket has two cuff adjustment straps one on each sleeve with the same style buttons. The jacket has the typical two lower flapped hip pockets and one upper breast flapped pocket. The interior is fully lined with heavy black/grey wool and has one inside pocket. The inter sleeves are lined with a soft black cotton and have an elastic type band at the end of interior cuff.
The trousers closely match the jacket using the same leather materials and plan fiber buttons. The rear of the trousers is made with a high back waist. They are fully lined with grey cotton cloth and they retain a portion of the original label with barley legible dated 1942, see picture.
Included is a very good example of an original period Kriegsmarine Flag. Considered a small flag, perfect for displays, size - 23 3/4" x 36 1/2". This is a printed style on linen. Has faint makers markings with "1941" date, complete with rope. One small area was re-hemmed with modern thread, not noticeable, only by the most experienced eye. Overall a great period correct original Kriegsmarine flag. ORIGINAL
This is a fine example of a U-Boat deck uniform used by lower rank sailor to brave the sea while on patrol. Grey color to blend into the surroundings and act as camouflage, leather to take on the severe weather of the sea. There are not many of these U-Boat deck uniforms in private hands, this would make a fine addition to any collection or museum.
NOTE: THE MANNEQUIN IS FOR DISPLAY ONLY AND NOT PART OF THE GROUP. THE CAP IS FOR DISPLAY ONLY AND NOT PART OF THGIS GROUP (HAT NOT BE TOTALY CORRECT FOR THIS GROUP, FOR DISPLAY ONLY, CAP IS FOR SALE IN OUR HAT and CAP SECTION).