GUARNTEE TO BE ORIGINAL, 15 DAY INSPECTION PERIOD
WWII German M-40 Luftwaffe Camouflage Single Decal Helmet - ORIGINAL RARE -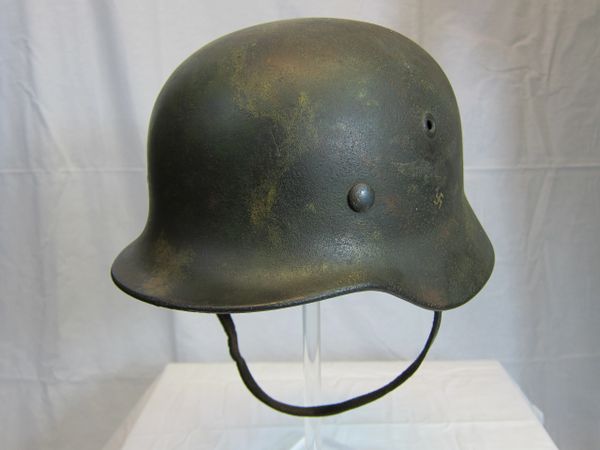 WWII German M-40 Luftwaffe Camouflage Single Decal Helmet - ORIGINAL RARE -
Description
Original WWII German Luftwaffe Camouflage Helmet - Single Luftwaffe Eagle
Luftwaffe Summer/Fall Camouflage Helmet
- THIS IS A GREAT HELMET- In Battle Used Condition -
This is an original WWII German Model 40 (M-40) Single Decal Luftwaffe Helmet, Rare. This is an excellent example of a Luftwaffe Camouflage Summer/Fall pattern, period done. The single decal is hard to see, has some of the camouflage over the top. The swastika is pronounced vividly, the eagle not so much. Even though the decal is harder to make then normal Luftwaffe eagle decals, it has that subdued look, I like this one a lot, I think it looks absolutely fantastic. The helmet is stamped with the manufactures code mark "Q64 (F.W. Quest in Esslingen) as stamped on the left underside of the shell skirt. The rear inside skirt of the shell is marked with the steel lot number "132".
The Liner is in good shape, dark brown leather, with normal wear and discoloration from use. The liner is all original, all rivets/split pins and washers intact. The liner has the size marking "54". The chinstrap is all original, with original parts and buckle, no markings.
This is a great WWII German Luftwaffe single decal camouflage helmet. The colors and the condition of this helmet looks absolutely fantastic. This is a very nice helmet, period correct all original. This is a great helmet for any collection and is of museum quality. Add this to you collection or museum today.