GUARNTEE TO BE ORIGINAL, 15 DAY INSPECTION PERIOD
WWII German M98K Mauser Rifle, Demilled Non-Firing - ORIGINAL - SOLD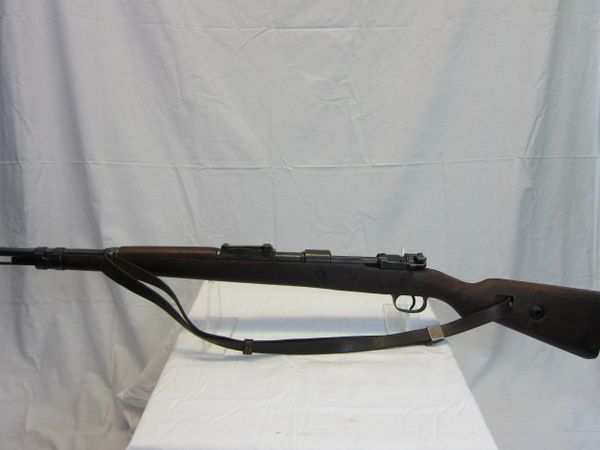 WWII German M98K Mauser Rifle, Demilled Non-Firing - ORIGINAL - SOLD
Description
Original WWII German M98K Rifle "Demilled"
- WWII Dated 1939, Non-Firing M98k -
 THIS IS A NICE DISPLAY - In great battlefield condition
This is an excellent display gun for your German Soldier. WWII original demilled M98K Mauser Rifle, manufactured by J.P. Sauer & Sohn. Non-firing display, dated 1939. Very good example of the classic German issued rifle, used in combat. This gun was very popular with the German soldiers for accuracy and durability. All original parts, manufacture number stamp "147" dated 1939, has at least five Waffen Amts marks. Looks and feels just like a live gun, but cannot be made to fire. Comes with a period correct sling. A museum grade rifle like this are getting hard to find and are very desirable by collectors and museums. 
 J.P. Sauer & Sohn was one of the oldest gun makers in Germany. The Mauser Karabiner 98k rifle was widely used by all branches of the armed forces of Germany during World War II. It saw action in every theatre of war involving German forces, including occupied Europe, North Africa, the Soviet Union, Finland, and Norway. Although comparable to the weapons fielded by Germany's enemies at the beginning of the War, its disadvantages in rate of fire became more apparent as American and Soviet armies began to field more semi-automatic weapons among their troops. Still, it continued to be the main infantry rifle of the Wehrmacht until the end of the War -SOLD-
Nice addition to any collection, museum or display.
"THIS GUN IS DEMILLED and CAN NOT BE MADE TO FIRE"