GUARNTEE TO BE ORIGINAL, 15 DAY INSPECTION PERIOD
WWII German MG 34 Machine Gun, Demilled, Non-Firing - ORIGINAL VERY RARE -SOLD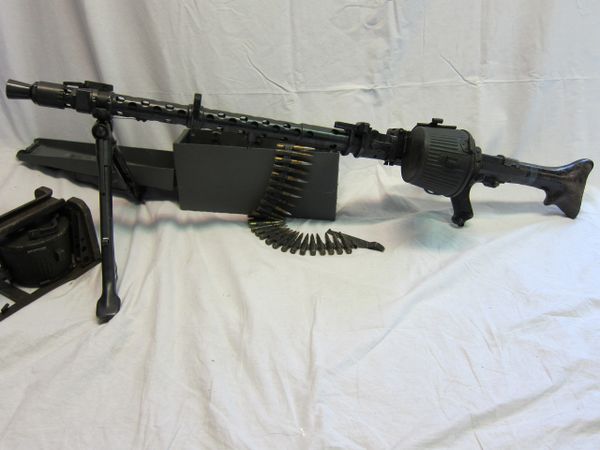 WWII German MG 34 Machine Gun, Demilled, Non-Firing - ORIGINAL VERY RARE -SOLD
Description
Original WWII German MG 34 Machine Gun "Demilled"
- WWII Non-Firing MG 34 Machine Gun -
 THIS IS A NICE DISPLAY - In great battlefield condition
This is an excellent display machine gun for a your ultimate WWII German display. Original WWII demilled German MG 34 Non-firing display. Very good example of the classic German Machine gun. Original WWII parts, this weapon has been rebuilt with a original WWII welded demilled receiver. Receiver is marked "1603" / "1054" with two Waffen proofs, and "ar" "42" (Dated 1942). The top cover is marked with serial number "7425" / "1054" with the manufactures stamp code "bpr" (Johannes Grossfuss, Döbeln in Sachsen), with two Waffen proofs. The MG 34 listed comes with a bipod, two drum magazines and drum caring sled. One MG 34 ammunition box with 150 dummy round on an ammunition belt.
In the field, the MG 34 could operate in offensive or defensive applications. The offensive model, with a mobile soldier, used a drum magazine that could hold either 50 or 75 rounds of ammunition. In a stationary defensive role, the gun was mounted on a bipod or tripod and fed by an ammunition belt.

This is a very fine example of the most prolific German issued Light Machine gun of WWII. Looks and feels just like a live gun, but cannot be made to fire.  These guns are getting very very hard to find and are very desirable by collectors and museums.   
This museum quality MG 34 would be a fantastic addition to any high end collection, museum or display. There are not many out there and when they come up for sale they don't last very long. Don't miss out, add it to your collection or museum today. SOLD
"THIS GUN IS DEMILLED and CAN NOT BE MADE TO FIRE"