GUARNTEE TO BE ORIGINAL, 15 DAY INSPECTION PERIOD
WWII German Officers Black Panzer Wrap Field Jacket, Uniform Group -ORIGINAL VERY RARE-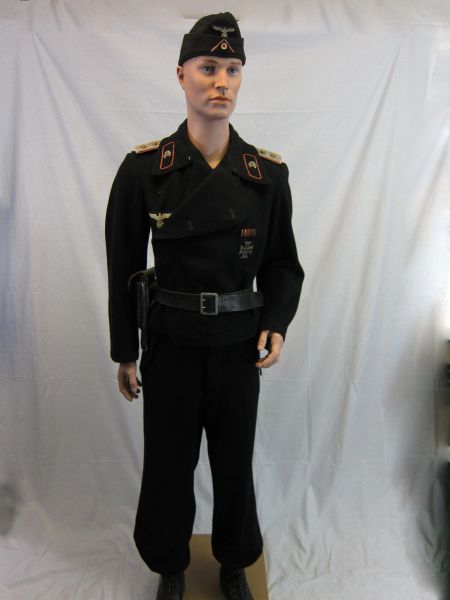 WWII German Officers Black Panzer Wrap Field Jacket, Uniform Group -ORIGINAL VERY RARE-
Description
Original WWII German Officers Black Panzer Wrap Field Jacket 
- Manufactured by Pritchett, Suprin, Pritchett, Steifensand-
 THIS IS A RARE UNIFORM - In great Battle Front used condition
This fantastic Original German Officer Black Panzer Wrap Field Uniform Group and it's amazing. The Black Panzer field jacket is in great shape and is all original and period correct. The stiching patterns, fabric used and overall construction is all period correct and original. The jacket signature is the DAF buttons (a swastika superimposed over a cog-wheel, see picture.) These type of buttons were only seen on manufactured jackets by the organization: Pritchett, Suprin, Pritchett, Steifensand. The lining of the jacket is a green cotton, and is marked 83, 90 , 115 , 108. The construction of the jacket, location of buttons, stitching, thread age, attachments and quality are all typical and period correct for this manufacture. The jacket show light wear and some small tears, not noticeable to the outside, just normal wear areas on the inside. With his metals ribbon band and Iron Cross.
The trousers are constructed in a similar way with all manufacturing points being correct for the period and original. The trousers show light wear for the age of this piece. The location of the pockets, stitching, thread age, and pattern are all period correct and original.
The cap is a standard M34 German Panzer Garrison Cap for an Officer. The outside color is black, the material is a average quality woolen yarn, with a short nap finish. The thread used is a black thread. The insignia's are real nice and sharp, proper size and shape for this cap. The eagle and army cockade are original, positioned at the center of the skirt front, and period sewn. The Soutache is the correct inverted "V" and is properly sew to the cap. The cap shows light wear and slight fading as would be expected from a period piece. The cap it's self is in great shape, with valid characteristic of an original period German Army Panzer Garrison Cap. 
The belt is a standard Panzer leather belt correct for this uniform, period correct and original. The holster is a all black leather manufactured by DKK dated 1944. Made for a Astra 600 pistol (manufactured by Spain for Germany) The holster and belt are all original and period correct. 
This is a fantastic very rare Panzer Officer Uniform, (Panzer Tunic Wrap, Panzer Trousers, Panzer M34 Cap) with belt and holster. This is the number one (1) uniform that is sought out be collector and museums. Don't miss out on this rare opportunity to own such a fantastic historical all original German uniform from WWII. 
NOTE: THE MANNEQUIN IS FOR DISPLAY ONLY AND NOT PART OF THE GROUP.