GUARNTEE TO BE ORIGINAL, 15 DAY INSPECTION PERIOD
WWII - German SS M42 Helmet, ID'd to Heinz Schiller Heavy Panzer Division "Tiger Tanks" - ORIGINAL VERY RARE -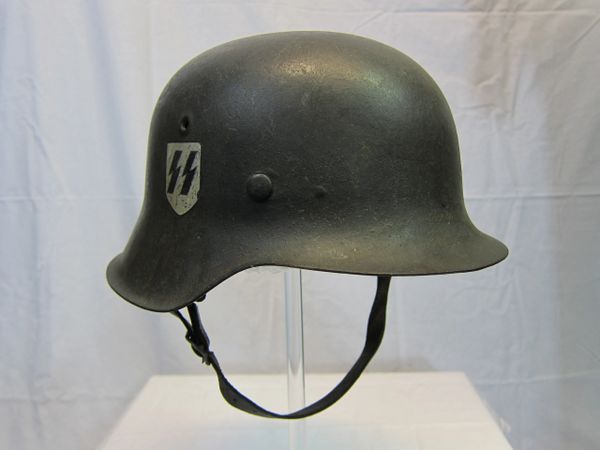 WWII - German SS M42 Helmet, ID'd to Heinz Schiller Heavy Panzer Division "Tiger Tanks" - ORIGINAL VERY RARE -
Description
Original WWII German SS M-42 Helmet, Single SS Decal, ID'd - Period Painted
- Marked inside "Pz. AbT" - Heavy Panzer Division / Tiger Tanks-
- THIS IS A RARE HELMET- In Great Battle Used Condition -
This is a fantastic, untouched original German SS M42 Helmet, ID'd to Heinz Schiller and his Division "AbT" Heavy Panzer Division "Tiger Tanks I and II" as marked inside. Markings are all original to the helmet and period, the SS single decal is original to the helmet and is in great shape. This is a CA Pocher decal, as illustrated in Kelly Hicks Book "SS Helmets" page 81. Inside back of the helmet are two sets of stamps, I believe it is "66" for size, the other Stamp is the lot number and can be made out a little easer, "3522". Up in the crown on the inside is the manufacture stamp / shell Acceptance Stamp, -"Abgennomen, Wehrmacht - Beschaffungsamt, Bekleidungs und Ausrustung" it's hard to read but it's the stamp illustrated in - Germany's Combat Helmets, 1933-1945, by Ken Niewiarowicz, page 444, bottom illustration. This would make it a cki (Eisenhuttenwerk AG, Thale Harz) manufactured helmet. On the back inside of the shell is a period marked, in paint, soldiers name. It is written in German by the soldier and gives his name and division ("Heinz Schiller" on top) ("SS - Pz. Abt. (T) AT." on bottom).
The Liner is in good shape, medium brown leather, with normal wear and discoloration from use. The liner is all original, all rivets/split pins and washers intact. The liner has the size marking "59". The chinstrap is all original, with original parts and buckle, no markings.
This is a fantastic piece of history and is a very rare item. This would make a great addition to any high end collection, or museum. This is one of those great collector helmet that everyone wants, all original, identified to a Heavy Panzer Tank Division "Tiger Tanks" marked SS. I've had this in my collection for over 25 years, it came directly from Germany. This helmet won't last, if your to get one collectors piece, this would be it. Great for any museum or top collection. Add it to your collection or museum today, these don't hit the market very often, get it while you can.