GUARNTEE TO BE ORIGINAL, 15 DAY INSPECTION PERIOD
WWII German SS Officer's Crystal Skull, Dachau Concentration Camp. - ORIGINAL VERY RARE -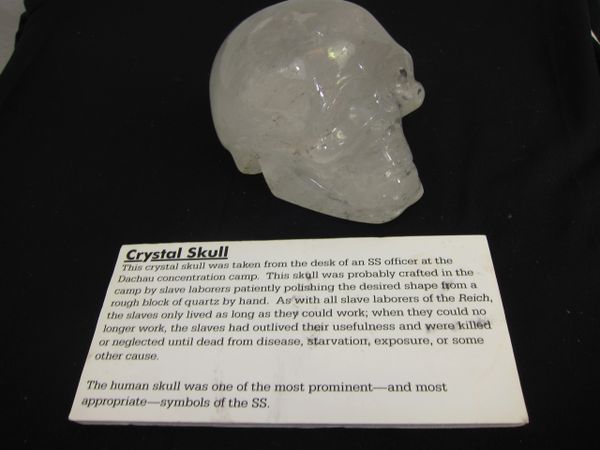 WWII German SS Officer's Crystal Skull, Dachau Concentration Camp. - ORIGINAL VERY RARE -
Description
Original WWII German SS Officers Crystal Skull 
- Taken from a German SS Officers Desk at The Dachau Concentration Camp -
- THIS IS A RARE ITEM - 
This very rare item is a WWII German SS Officers, that was taken off his desk at the end of the war. The skull was likely crafted by the prisoners using slave labor. They would have patiently polished a rough block of quartz over months to create the desired shape and look. It would have all been done by hand, over days, weeks and months, even years. As with all the slave labor of the Reich, the slaves would have only lived long as they could work; when they could no longer work, the slaves had outlived their usefulness and were killed, or just neglected until dead from disease, starvation, exposure or some other cause. 
Himmler had his own crystal skull and believed that it had powers. It to be noted that the skull was used by the SS in many of their symbols. More research is needed to identify the German officer that had this skull on his desk at Dachau.
A great museum quality exhibit piece for museums and private collections. A very hard to find item, of the SS. This would make a fine addition to any museum or fine collection.
This Crystal Skull came out of a prestigious museum back east when they sold out their entire collection over ten years ago. This grouping had been in the museum for many years prior. The Veterans Museum in Pigeon Forge, Tennessee.