GUARNTEE TO BE ORIGINAL, 15 DAY INSPECTION PERIOD
WWII Japanese Soldiers Tropical Battle Tunic and Battle Signed Flag - ORIGINAL -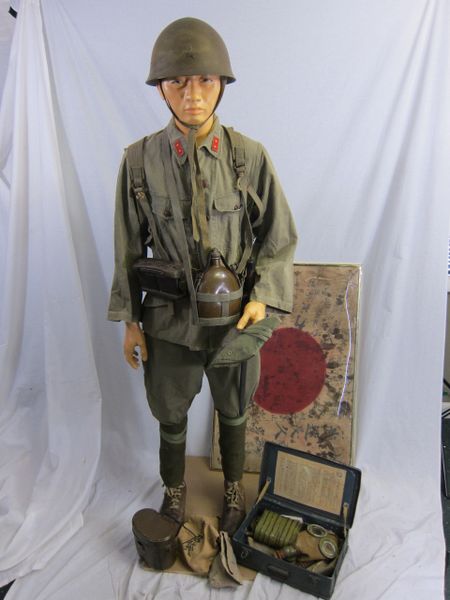 WWII Japanese Soldiers Tropical Battle Tunic and Battle Signed Flag - ORIGINAL -
Description
Original Japanese Tropical Battle Tunic W/Flag Group
- WWII Imperial Japanese Uniform Tunic and Flag -
 THIS IS A NICE DISPLAY GROUPING - In great battlefield condition
This is an excellent museum quality WWII all original Imperial Japanese Tropical Battle Uniform and signed Battle Flag Group. The grouping consists of 1). A battle worn tropical tunic in great shape, type 98, with button air vents under the arms, with true and correct manufactures marks inside, tropical battle trousers, marked inside with the proper markings, old tag attached to trousers stating that this was US soldier bring back, marked - "Property of Jack B. Riggle Cbl. 37440997, 871st B.S. 499" the rest is not legible.   2). Original Japanese water canteen, and rice cooker - mess kit.   3). Nice steel original Japanese combat helmet, real nice liner, marked inside with Japanese name, cloth chinstrap, overall a real nice battlefield used piece.   4). Captured Japanese marked Battle Flag - 24" x 36", this flag was taken in the South Pacific from a Japanese soldier that had the flag folded it up and had it in his helmet when he was killed by the US Marines. This flag was found by a US Marine in the helmet of the Japanese soldier that had been shot through the head. The Japanese soldier's blood is still on the flag, the blood stains are still on it to this day. The flag was signed by the Japanese soldiers fellow comrades prior to the battle that took his life. These flags were call a "Good Luck Flag" , not so good luck for this soldier.   5). His Japanese army issued original tropical cap. These caps were worn under their helmets. 6). His standard Japanese army issued leather combat shoes. with hob nails, original and in great shape.   7). His leather service belt with two leather ammo boxes and his Bayonet and bayonet frog attached to the belt properly marked, period correct and in great shape.    8). His Japanese army issued haversack, marked in Japanese, period correct and in great used shape.   9). His Japanese army issued original and marked puttees (leggings).    10). His Japanese soldiers Houkou Bukuro bag. His personal soldiers small cloth bag.    11). His Japanese army issued gas mask and gas mask box, marked on top. Overall this is a fantastic grouping that would be the pride of any collection, the Japanese battle flag alone is outstanding.
This would be a great grouping for any collection of WWII  - War in the Pacific.
A great museum quality exhibit grouping for the War in the Pacific. Japanese original uniforms are getting very hard to find. This is museum quality and displays real nice. This would make a great addition to any museum or fine collection. 

(THE MANNEQUIN IS FOR DISPLAY ONLY AND NOT PART OF THE GROUP).