GUARNTEE TO BE ORIGINAL, 15 DAY INSPECTION PERIOD
WWII Japanese Tank Commander's Complete Battle Uniform Group -ORIGINAL RARE - SOLD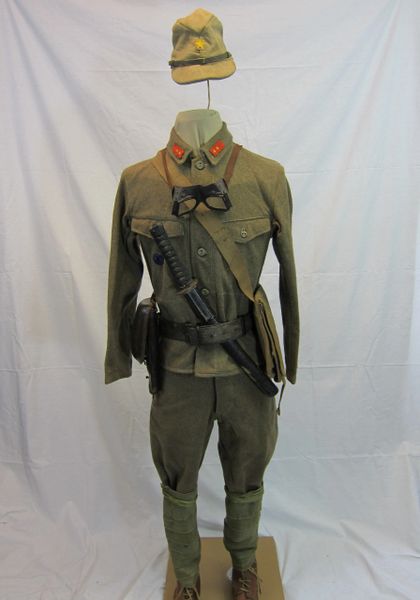 WWII Japanese Tank Commander's Complete Battle Uniform Group -ORIGINAL RARE - SOLD
Description
Original Complete Japanese Tank Commander's Uniform Group
- WWII Imperial Japanese Uniform -
 THIS IS A NICE DISPLAY GROUPING - In great battlefield condition
This is an excellent museum quality WWII all original Imperial Japanese Tank Commander's Battle Uniform Group. The grouping consists of 1). A battle worn wool tunic in great shape, with button made of brown backed clay, marked manufactures stamp inside, all original, great battle worn shape. This is not a cut down tunic, this is an original, padded elbows, slant pockets, wool, with arsenal markings inside. 2). The tropical pants are wool, marked manufactures stamp inside, all original, great battle worn shape. 3). Nice original Japanese wool field combat cap, liner shows wear, overall a nice battle field used piece. 4). His standard army issued combat shoes, original and in great shape. 5). His Japanese army issued original and marked puttees (leggings). 6). His garrison belt, tactical gear, leather pistol holster, leather belt, rear ammo pouch, and haversack, all original period items. 7). His tank goggles, original and in great good shape. 8). His tank metal/48. 9.) Japanese Tankers helmet, marked inside, great shape very rare. 10.) His carry along personal silk flag "Good Luck" 11). A short Japanese Shoto sword added to this grouping FREE.
This grouping came out of a museum back east when they sold out their entire collection, The Veterans Museum in Pigeon Forge, Tennessee.
A great museum quality exhibit group for the War in the Pacific. Japanese original uniforms are getting very hard to find. This is museum quality and displays real nice. This would make a great addition to any museum or fine collection. - SOLD -
NOTE: THE MANNEQUIN IS FOR DISPLAY ONLY AND NOT PART OF THE GROUP.