GUARNTEE TO BE ORIGINAL, 15 DAY INSPECTION PERIOD
WWII Japanese Type 99 Rifle, Demilled Non-Firing - ORIGINAL -SOLD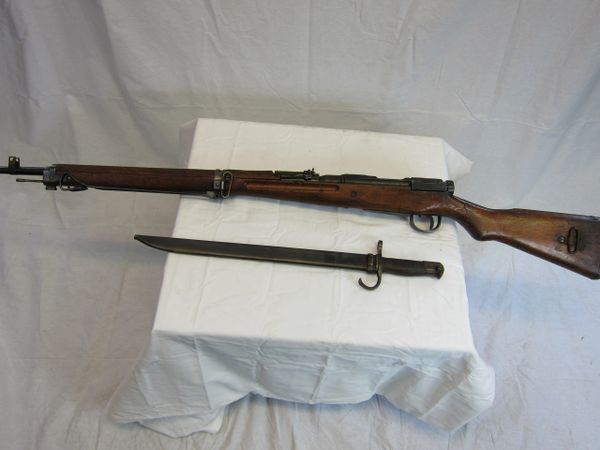 WWII Japanese Type 99 Rifle, Demilled Non-Firing - ORIGINAL -SOLD
Description
Original WWII Japanese Type 99 Rifle "Demilled"
- WWII circa 1942, Non-Firing Type 99 rifle -
 THIS IS A NICE DISPLAY - In great battlefield condition
This is an excellent display gun for your Japanese Soldier. WWII original demilled Japanese Type Model 99 non-firing display. Very good example of the classic Japanese gun.  This is a very good example 1942 demilled Japanese WWII standard issued rifle, additionally it has anti-aircraft sights. Has nice receiver markings, with Japanese Armory stamps. Produced at Kokura Arsenal. Stock shows combat with typical dings and scratches, normal wear to be expected from a battlefield gun. This is a museum grade gun, with Japanese arsenal markings and numbers. Sereial No. "11139" It looks and feels like a shooter, but can not be made to shoot. Included is the type 30 Arisaka Bayonet, early production, made at the Tokyo Arsenal. Moderate wear on the wood grips, normal for battle used. This combination is all original period correct and looks great together. 
Type 99 rifle Arisaka is a bolt action rifle of the Arisaka design used by the Imperial Japanese Army during World War II. The Type 30 Bayonet is a single-edged sword bayonet with a 15.75 inch blade and an overall length of 20.24 inch, with a weight of approximately 700 grams. The Type 30 bayonet is also known as the "Pattern 1897 bayonet.
This is a very good museum quality Japanese rifle and bayonet, a nice addition for any collection, or museum. SOLD
"THIS GUN IS DEMILLED and CAN NOT BE MADE TO FIRE"