GUARNTEE TO BE ORIGINAL, 15 DAY INSPECTION PERIOD
WWII Russian Soviet Model 38 Mosin-Nagant Carbine, Demilled Non-Firing - ORIGINAL SOLD-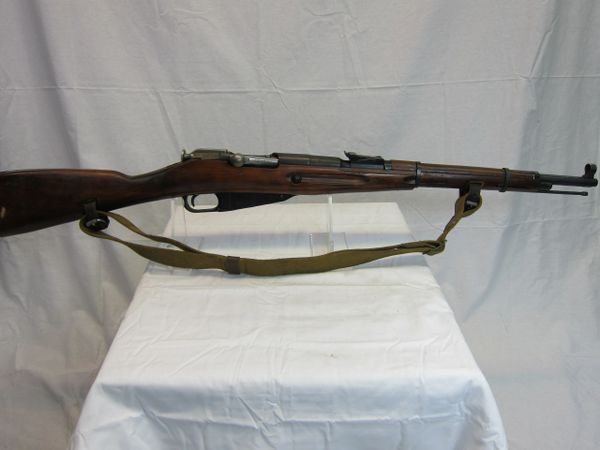 WWII Russian Soviet Model 38 Mosin-Nagant Carbine, Demilled Non-Firing - ORIGINAL SOLD-
Description
Original WWII Soviet Model 38 Moisin-Nagant Carbine "Demilled"
- WWII Dated 1944, Non-Firing Mosin-Nagant -
 THIS IS A NICE DISPLAY - In great battlefield condition
This is an excellent display gun for you Soviet Soldier. WWII original demilled Model 38 Mosin-Nagant Carbine, Non-firing display. Very good example of the classic Russian gun.  Very good example of a dated 1944 demilled Soviet WWII standard issued rifle carbine. Has nice receiver markings, with Soviet Cycle and Hammer Crest. This is a museum grade gun, with matching serial numbers. It looks and feels like a shooter, but can not be made to shoot. Sling is period correct and in great shape.
At the beginning of the war, the Mosin–Nagant was the standard issue weapon of Soviet troops and millions of the rifles were produced and used in World War II by the largest mobilized army in history.
Add this museum grade Soviet carbine rifle to your collection or museum today. SOLD
"THIS GUN IS DEMILLED and CAN NOT BE MADE TO FIRE"