GUARNTEE TO BE ORIGINAL, 15 DAY INSPECTION PERIOD
WWII Russian Soviet PPS-42 Submachinegun Demilled Non-Firing - ORIGINAL -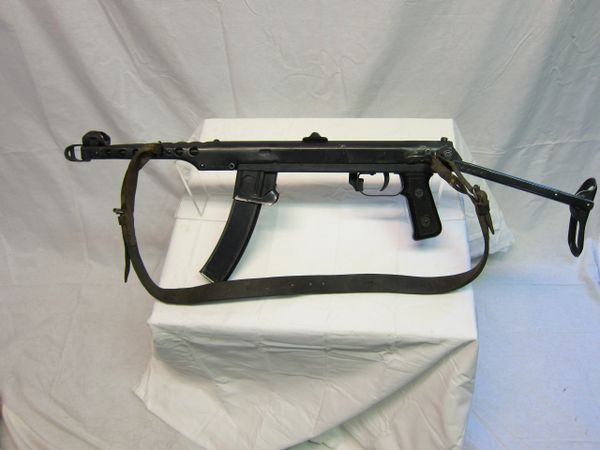 WWII Russian Soviet PPS-42 Submachinegun Demilled Non-Firing - ORIGINAL -
Description
Original WWII Soviet PPS-42 "Demilled"
- WWII Non-Firing PPS-42 -
 THIS IS A NICE DISPLAY - In great battlefield condition
This is an excellent display gun for you Soviet Soldier. WWII original battlefield used demilled PPS-42 Non-firing display. Very good example of the classic Russian gun. The PPS-42 was created in response to a Red Army requirement for a compact and lightweight weapon with similar accuracy and projectile energy to the Soviet PPSh-41 submachine gun widely deployed at the time, with reduced rate of fire, produced at lower cost and requiring less manpower, particularly skilled manpower.  Developed by Alexei Sudayev as a low-cost Red Army personal defense weapon for reconnaissance units, vehicle crews, tank crews, and support personnel. All original parts (except center dummy receiver section). Looks and feels just like a live gun, but cannot be made to fire. Does not cock but stick magazine is removable, and stock claps and fold out. Trigger pulls, safety works back and forth and comes with a period correct WWII Soviet sling.   
The PPS-42 was also used in Korea by the North Korean Army, and well into Vietnam by the North Vietnamese Army, there are some great original Vietnam photos of these guns being used by the Viet Cong as well. 
Nice addition to any collection or display.
"THIS GUN IS DEMILLED and CAN NOT BE MADE TO FIRE"