GUARNTEE TO BE ORIGINAL, 15 DAY INSPECTION PERIOD
WWII Russian Soviet PPSH-41 Submachinegun Demilled Non-Firing - ORIGINAL RARE -*SOLD*-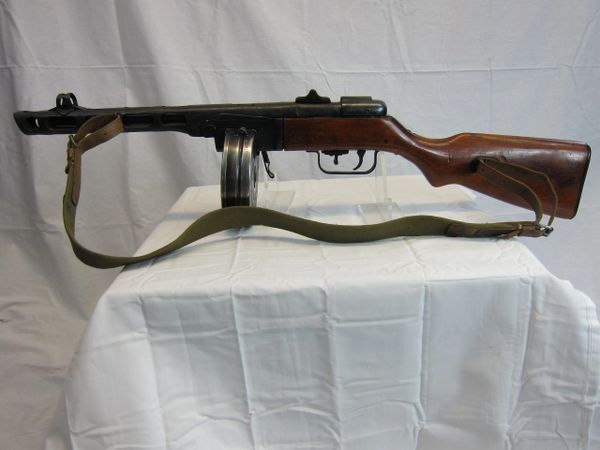 WWII Russian Soviet PPSH-41 Submachinegun Demilled Non-Firing - ORIGINAL RARE -*SOLD*-
Description
Original WWII Soviet PPSh-41 "Demilled"
- WWII Dated 1945 Non-Firing PPSh-41 -
 THIS IS A NICE DISPLAY - In great battlefield condition
This is an excellent display gun for you Soviet Soldier. WWII original battlefield used demilled PPSh-41 Non-firing display 1945 dated. Very good example of the classic Russian gun. This gun was also popular with the German troops if they could capture one. All original parts (except center dummy receiver section). Looks and feels just like a live gun, but cannot be made to fire. Does not cock but drum magazine is removable. Trigger pulls, sights adjust, safety works and comes with a period correct sling.   
Nice addition to any collection or display.-SOLD-
"THIS GUN IS DEMILLED and CAN NOT BE MADE TO FIRE"