GUARNTEE TO BE ORIGINAL, 15 DAY INSPECTION PERIOD
WWII Uniform of Colonel William S. Pocock "Wild Bill" CBI Group - ORIGINAL RARE -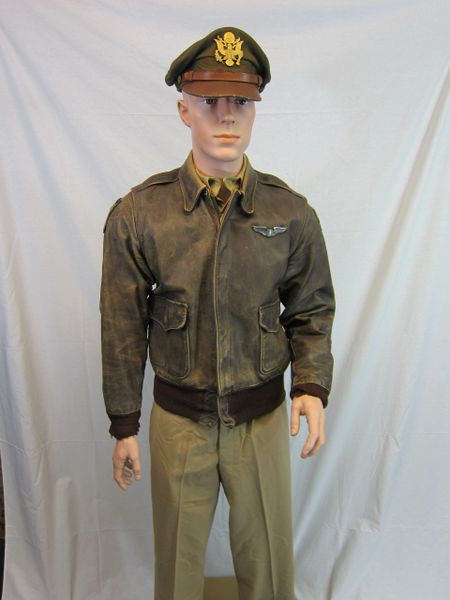 WWII Uniform of Colonel William S. Pocock "Wild Bill" CBI Group - ORIGINAL RARE -
Description
Original WWII CBI, ID'd Group
"CBI - "China Burma India Theater" Commander of - ASC Burma Peacocks
THIS IS A NICE UNIFORM - In great used condition
This uniform was worn by Colonel William S, Pocock "Wild Bill", Commander "ASC Burma Peacocks" This is a real nice CBI grouping, of a dedicated and great American. The grouping consists of the following: 1). His A2 Leather Jacket with embroidered CBI patch on the right and Air Corps patch on the left. His sterling wigs attached to the front. All original period correct and in great period used shape. 2). His khaki summer pants and shirt, shirt has two lower buttons missing, overall in good shape. 3). His early model stitched visor, "Crushed Hat" "Fighter" Manufactured by Bancroft. Real nice item, all original war condition. 4). His pilots white scarf with embroidered Air Corps patch. 5). Early felt "Pin Wheel" patch. 6). His ribbon uniform bar. 7). His overseas cap with Colonel rank pin, as worn in the picture above. 8). His metals - a. Distinguished Flying Cross named and engraved to the 61st service group.engraved to the 61st Air Service Group. 9). Bronze Star, named. 10). Air meta, named, dated, numbered, and certificate. 11). Chinese commemorative metal, numbered. 12). Framed D.F.C. Diploma. 13). His dog tags and War Department ID card. Real nice all original period correct CBI Grouping.
This is a great CBI grouping for any collector or museum. A lot of collectors are interested in the CBI groups, Flying Tigers, B24 - Heavy Bombers, and the fierce fighting they did. Get it while we still have it, it won't last very long. Add this grouping to your collection or museum today.
NOTE: THE MANNEQUIN IS FOR DISPLAY ONLY AND NOT PART OF THE GROUP.