GUARNTEE TO BE ORIGINAL, 15 DAY INSPECTION PERIOD
WWII Uniform of General Thomas Holcomb, Commander of the Marine Corps -ORIGINAL VERY RARE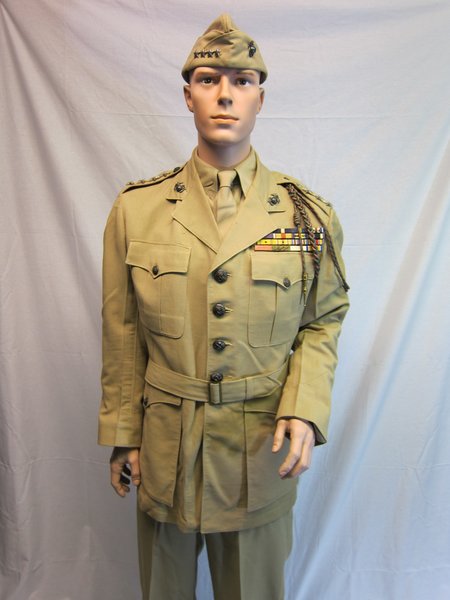 Description
Up for sale is the uniform of General Thomas Holcomb, Commandant of the Marine Corps. In 1936, President Roosevelt approved General Holcomb as the seventeenth commandant of the Marine Corps. War in Europe was immanent and General Holcomb set about preparing the Marine Corps for World War II, including modernizing the Marine Corps equipment and tremendously expanding the corps numbers. From s fleet Marine force of 3,000 in 1936, the Marine Corps, under General Holcomb reached 66,00 by 1939 and by 1943 350,000 - including 3 extraordinary amphibious divisions (1st, 2nd, 3rd Marine Divisions, with the 4th Marine in training), additional 95 High Performance Aviation Squadrons and 15 Defense battalions. Very Rare, Top Marine General in World War II. This is a great collectors piece, it was in a prominent museum until recently, add it to your collection while you can. Collector items like this will not stay on the market long. Commandant of the Marine Corps WWII - WOW!
This grouping came out of a prestigious museum back east when they sold out their entire collection, The Veterans Museum in Pigeon Forge, Tennessee.
NOTE: THE MANNEQUIN IS FOR DISPLAY ONLY AND NOT PART OF THE GROUP.