GUARNTEE TO BE ORIGINAL, 15 DAY INSPECTION PERIOD
WWII U.S. 101st Airborne Paratrooper Officers Grouping, ID'd, -ORIGINAL RARE- SOLD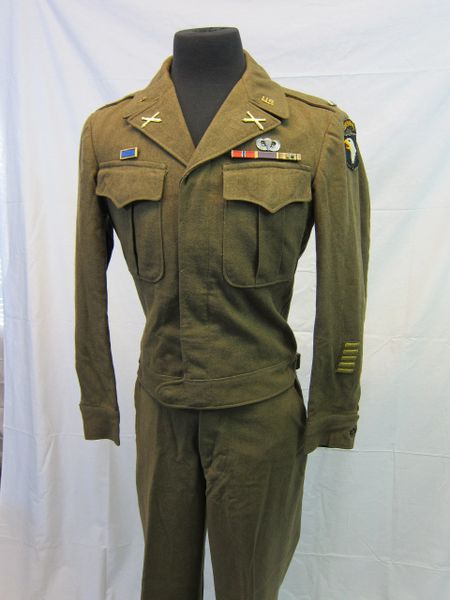 WWII U.S. 101st Airborne Paratrooper Officers Grouping, ID'd, -ORIGINAL RARE- SOLD
Description
Original WWII U.S. 101st Airborne Division Paratrooper Grouping, ID'd
"Screaming Eagles" - "Battle of Bastogne"
 THIS IS A RARE GROUPING - In great used condition
This is a fantastic identified original U.S. 101st Airborne Officers Grouping, ID'd to Lieutenant George L. Thibodeau, that fought in "Operation Overlord" (D-Day) and the "Battle of the Bulge" (Battle of Bastogne) . The group consisting of his officers dress uniform, his wool service uniform, Officers Cap, and other personal items. His jackets have the following attached, two sterling silver jump wings, one for each jacket. Two sets of shoulder attached 1st Lieutenant bars, one set for each jacket, two sets of artillery insignia pins, attached to the collor of each jacket, along with two sets of "US" pins. The ribbon rack bar on each jacket has each a bronze star award and a arrowhead award. The arrowhead award indicates this soldier was on the beaches and in the battle of D-Day, operation "Operation Overlord". His officers cap is in great shape and is a size 6 7/8. The grouping also includes his diary, with many interesting stories, his Officers Candidate School book, with his picture. His War Department Military ID, dated Jan 1, 1943 and his dog tags.  Also part of this collection is the cast bronze plague he was awarded for fighting in the Battle of Bastogne "Battle of the Bulge".  
The jackets are in great shape, his wool service uniform is dated 1944, size 36R, and his dress uniform is dated 1943 size 37R. Both jacket have the original 101st Airborne Division Insignia "Screaming Eagles" sewn to the left shoulder. The wool service pants are dated 1944, size 30x33, and the dress pants are dated 1944, size 32 regular. Both uniform sets are museum quality, and all tags are present.
Lt. George Thibodeau was in the thick of it, fighting on D-day and also taking part in the Battle of Bastogne. Being part of the famous 101st Airborne Division, and taking part in at least two major battles, this grouping is amazing and a significate historical item. This is a great grouping for any collector or museum. It won't last, items like this are bought up fast, they are rare and hard to get. Don't miss out, add this grouping to your collection or museum today.