GUARNTEE TO BE ORIGINAL, 15 DAY INSPECTION PERIOD
WWII U.S. 101st Airborne Paratrooper's Jump Uniform, Sergeant's Grouping, ID'd, -ORIGINAL RARE- SOLD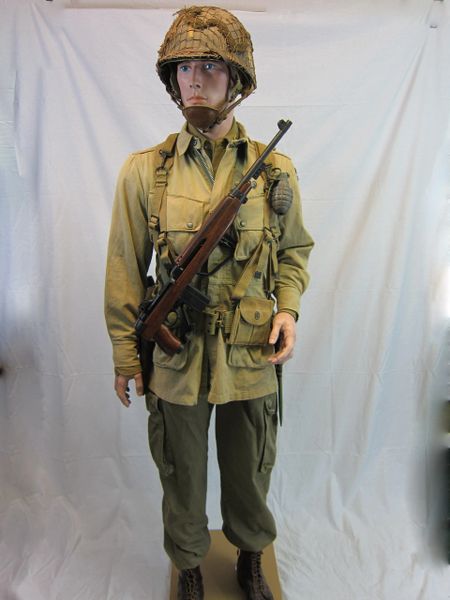 WWII U.S. 101st Airborne Paratrooper's Jump Uniform, Sergeant's Grouping, ID'd, -ORIGINAL RARE- SOLD
Description
Original WWII U.S. 101st Airborne Division Paratrooper Grouping, ID'd
"Screaming Eagles" - "Normandy and Market Garden"
 THIS IS A RARE GROUPING - In great used condition
This is a fantastic identified original U.S. Army 101st Airborne Jump Grouping. Original jump jacket and jump boots identified to Sergeant Jim Papal of Price, Utah. Sergeant Papal was part of the 502nd Parachute Infantry Regiment of the 101st Airborne Division. in Normandy. He participated in "Operation Market Garden and Overlord" (D-Day) and the "Battle of the Bulge" (Battle of Bastogne). The items identified to Sergeant Papal are his 1). Original jump jacket with the original "Screaming Eagle" patch on the left shoulder. 2). His original jump boots. The following original period correct items are part of this grouping. 3). One silver original jump wings. 4). Standard army issued wool shirt. 5). Army issued tactical web belt. 6). First aid kit "JEFF.OMD 1942". 7). US canteen and cover dated 1944. 8). US M4 Bayonet "PAL". 9). Entrenching tool with cover (Shovel) dated 1942. 10). 1911 holster dated 1942. 11). 1911 magazine ammo pouch dated 1945. 12). US M1 Carbine ammo magazine pouch dated 1942. 13). Original WWII 1st Lieutenant silver rank bar, and crossed rifles infantry pin. All original and period correct.
The following are items added to the collection at no charge and are original modified or reproductions items to make the display better: 1). WWII original front seam helmet converted to D-bale spot welded like original D Day version. With original Westinghouse liner converted to para liner. Excellent used condition, hand painted and aged with Lt. bar on front and officers bar on rear. (See our section on Military Helmets and Hats for an all original 101st Airborne combat helmet to add an original to this collection). 2). WWII replica M1 Carbine paratroopers rifle, this is a replica rifle included with this group. (See our Military Weapons and Armament for original demilled weapons to add an original to this collection).  3). WWII reproduction combat jump pants.   
NOTE: THE MANNEQUIN IS FOR DISPLAY ONLY AND NOT PART OF THE GROUP.