GUARNTEE TO BE ORIGINAL, 15 DAY INSPECTION PERIOD
WWII - U.S. 10th Mountain Division Cold Weather Uniform Group, - ORIGINAL-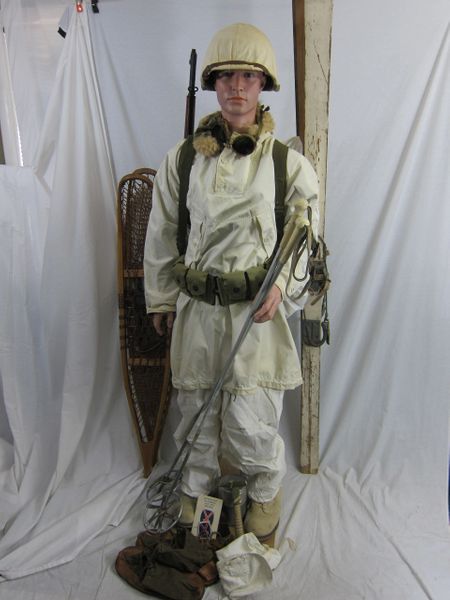 WWII - U.S. 10th Mountain Division Cold Weather Uniform Group, - ORIGINAL-
Description
Original WWII U.S. 10th Mtn. Division Cold Weather Uniform Grouping
10th Mountain Italy Campaign 
 THIS IS A NICE GROUPING - In great used condition
This is a real nice original U.S. Army 10th Mountain Division Cold Weather Combat Uniform and equipment. Both jacket and pants are museum quality. The uniform grouping includes:  1). His combat helmet, original WWII U.S. M1 (Steel Pot) "391A" Helmet, early helmet with the Front Seam, Fixed bales, and with early Seaman Paper Company marked liner, exterior period painted 10th Mtn. white.   2). WWII white snow combat jacket in great shape and period correct, with a pair of WWII combat snow winter trousers marked "PHILA. Q.M. DEPOT" and dated "1944". And an additional pair of white snow combat trousers at no charge.  3) WWII M1 Grand Cartridge belt, marked- dated "1942 or 1943".  4). His white WWII snow combat boots, two buckle style.  5). Large pair of 10th Mountain camp shoes, Korea War.  6). 10th Infantry Division patch.  7). 10th mountain snow shoes, Korea war, marked "US" "Snow Craft, Inc., dated -"1953". 8). WWII 10th Mountain snow skies, marked - "Northland U.S.", and "GREGG MFG" "ST. PAUL MINN."  9) WWII 10th Mountain ski poles.  10) WWII 10th Mountain snow goggles.  11) WWII 10th Mountain Ice pick, with rope pins.  12)  Post war 10th Mountain Infantry Division Handbook for solders.  13) WWII 10th Mountain field portable cook stove, marked - "US" "C. M. MFG. CO." "1945" .  14) WWII  white 10th Mountain mitten combat gloves. 15). WWII 10th Mountain Tent, marked - "ROGERS TENT & AWNING CO." "1943".  16) WWII 10th Mountain sleeping bag.  17). WWII Pack board, marked - "US" on the back under side and "AMERICAN SEALING CO" "3-15-45" on the back outer side.
This is a great grouping for any collector or museum. A lot of collectors are interested in the 10th Mountain Division, get it while we still have it,  it won't last very long. Add this grouping to your collection or museum today.
This would go great with the 10th Mountain wool everyday uniform grouping we have for sale on our site.
NOTE: THE MI GRAND RIFLE IS FOR DISPLAY ONLY AND NOT PART OF THIS GROUPING. The M1 Grand Rifle is a reproduction non-firing and added for a better display.  

NOTE: THE MANNEQUIN IS FOR DISPLAY ONLY AND NOT PART OF THE GROUP.