GUARNTEE TO BE ORIGINAL, 15 DAY INSPECTION PERIOD
WWII U.S. 2nd Armor Division Sergeant's Service Uniform -ORIGINAL-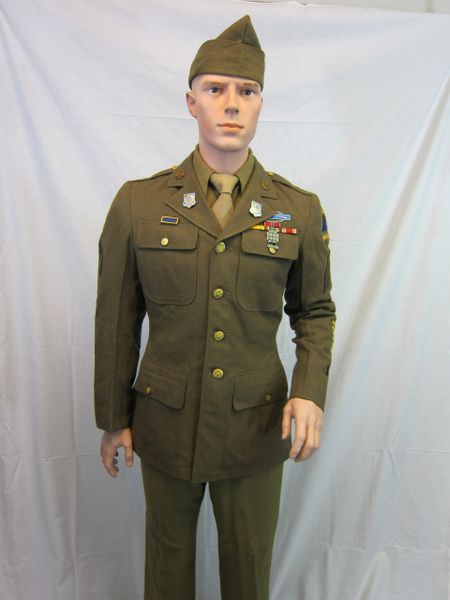 WWII U.S. 2nd Armor Division Sergeant's Service Uniform -ORIGINAL-
Description
Original WWII U.S. 2nd Armored Division Sergeant's Service Uniform
"Hell on Wheels"
THIS IS A NICE GROUPING - In great used condition
This is a real nice original U.S. Army 2nd Armored Division Sergeants Service Uniform. The jacket, pants and shirt are museum quality. The service jacket is made of OD wool, it's a GI issued four pocket blouse, has the famous 2nd Armored Division patch on the left shoulder, with a theater made embroidered on wool "Hell on Wheels". The jacket and shirt have sergeants chevrons on both sleeves. On the jacket you can still see the old corporal outline T, where the soldier pulled it off to replace it when he was promoted to sergeant. There are five overseas bars and a hash mark on the left cuff. The color has US and Infantry screw back brass, with a pair of pingback 41st Armored infantry DI's on lapels. There is a clutch back sterling Combat Infantry Badge on the chest above the four individually pinned on ribbons, for the Bronze Star, American Defense, ETO with an arrowhead, Silver Star, and Bronze Campaign Star, and a Good Conduct Ribbon. On the pocket flap is a pin back sterling Marksman's badge with a "Rifle" bar.
The Service Jacket is in very good conditions original period correct. The service pants are wool, original period correct and in nice shape.
This uniform was obviously owned by a soldier who went through every campaign with the famed 2nd Armored Division, from Sicily through Normandy and to the end of the war! This soldier was a real hero, and this uniform is a testament through all his awards and service metals, to his courage and service of our country. A great book that has a lot of the 2nd Armored division mentioned - "Breakout at Normandy, the 2nd Armored Division in the Land of the Dead" by- Mark Bando. There was a movie recently made about the 2nd Armored Division, "Fury" Staring Brad Pitt.
This is a real nice original uniform worn by a real hero. This would make a fine addition to any museum or fine collection. 2nd armored uniforms are being snatched up like crazy after the movie 'Fury". Get this one while we still have it, don't miss out, get it today.
NOTE: THE MANNEQUIN IS FOR DISPLAY ONLY AND NOT PART OF THE GROUP.