GUARNTEE TO BE ORIGINAL, 15 DAY INSPECTION PERIOD
WWII U.S. 92nd Infantry Division "Buffalo Soldier",758th Tank Battalion, Wool Ike Jacket, shirt and pants, ID'd -ORIGINAL RARE-SOLD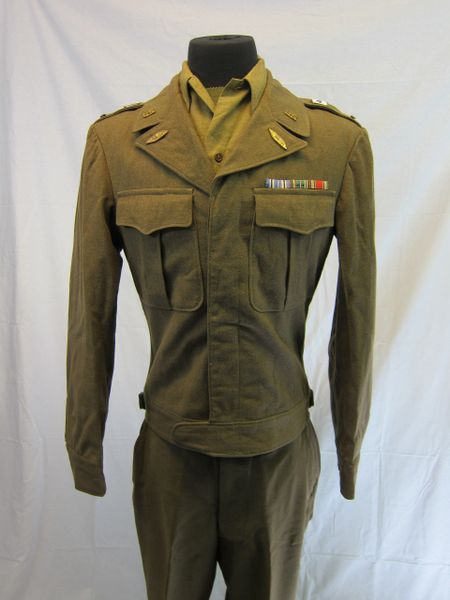 WWII U.S. 92nd Infantry Division "Buffalo Soldier",758th Tank Battalion, Wool Ike Jacket, shirt and pants, ID'd -ORIGINAL RARE-SOLD
Description
Original Wool Uniform, WWII U.S. 92nd Infantry Division,
758th Tank Battalion, ID'd 1st. Lieutenant Smith
- "Buffalo Soldiers" -
 THIS IS A RARE GROUPING - In great used condition
This fantastic identified original Officers wool Jacket, Pants and Shirt of the 92nd "Buffalo Soldiers" Division, 758th Tank Battalion of WWII. ID'd to 1st. Lieutenant Smith of the 758th. The jacket is in great shape, dated 1944, museum quality, and all tags are present. The jacket has the original 92nd infantry division "Buffalo Soldiers" patch on the right arm, the armored forces triangle patch on the left. The original matching pair of PB sterling 1st Lieutenant bars on the shoulder epaulets, along with a pair of 758th tank battalion Africa Elephant "We Pierce" pins. Matching pair of "US" pins on the upper collar lapels, with a pair of early rhomboid tank device pins on the lower collar lapels. The pants are in as equally as good of shape as the jacket, museum quality. The tags are all present and attached to the pants, dated June,1945.
The all colored U.S. Army 758th tank battalion was a famous tank unit, that fought bravely during WWII.  One of the battalion's more notable members was future baseball star Jackie Robinson. Between August 1944 and May 1945 the 92nd Division suffered 3,200 casualties, and the factoring in of losses from the 442 Regimental Combat Team (442nd RCT) and other units attached to the division brings the total up to 5,000 casualties. The unit's insignia is the head of a black Africa elephant with large white tusks accompanied by the motto, "We Pierce" (pair of pins on this jacket's epaulets).
This is a nice ID'd officers uniform from the famous 92nd division "Buffalo Soldiers" This piece won't last long, a historical correct period piece, all original and in museum quality. This is a great piece for any collection or museum, don't miss out on the opportunity to own such a fine rare historical uniform. 
NOTE: THE MANNEQUIN IS FOR DISPLAY ONLY AND NOT PART OF THE GROUP. - SOLD -