GUARNTEE TO BE ORIGINAL, 15 DAY INSPECTION PERIOD
WWII U.S. Browning 1919A4 .30 Caliber Machine gun, Demilled, Non-Firing - ORIGINAL -SOLD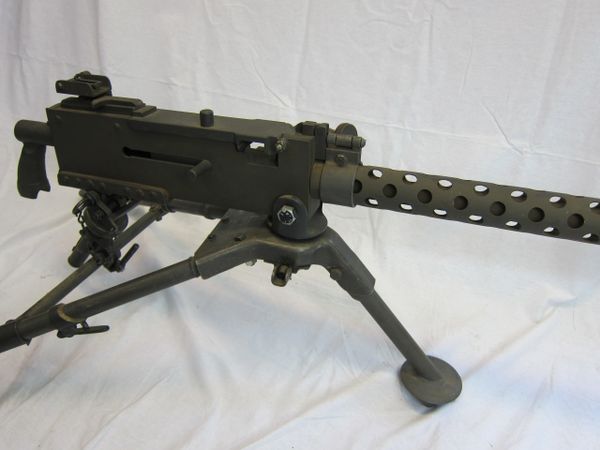 WWII U.S. Browning 1919A4 .30 Caliber Machine gun, Demilled, Non-Firing - ORIGINAL -SOLD
Description
Original WWII U.S. Browning 1919A4, 30 Cal. Machine Gun "Demilled"
- WWII Original Non-Firing .30 Cal. 1919A4 -
 THIS IS A NICE DISPLAY - In great battlefield condition
This is an excellent display gun for your U.S. Soldiers. WWII original demilled 1919A4 .30 Cal. Machine Gun, Non-Firing display. Original WWII .30 Cal Machine Gun.  This is a very good example of the classic .30 Cal U.S. Machine Gun used by the U.S. for support. All original parts (except dummy side plates). Serial number stamped under the top cover "584795"  The tripod is dated post WWII. This 1919A4 .30 Cal Browning looks and feels just like a live gun, but cannot be made to fire. 
Nice addition to any museum, display, or collection.  
"THIS GUN IS DEMILLED and CAN NOT BE MADE TO FIRE"