GUARNTEE TO BE ORIGINAL, 15 DAY INSPECTION PERIOD
WWII U.S. M1 Helmet Steel Pot, Fixed Bale, Front Seam w/Hawley Liner "G" General Fiber Complete, - ORIGINAL RARE- SOLD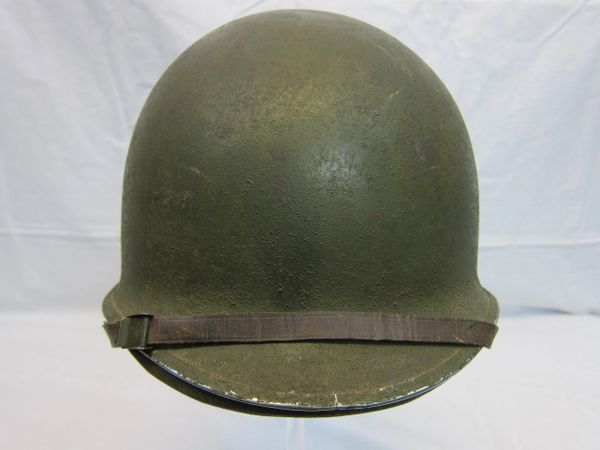 WWII U.S. M1 Helmet Steel Pot, Fixed Bale, Front Seam w/Hawley Liner "G" General Fiber Complete, - ORIGINAL RARE- SOLD
Description
Original WWII U.S. M1 "Steel Pot" Helmet - Front Seam/Fixed Bale -w/Complete Hawley "G" Liner, Period painted -
- THIS IS A RARE LINER, MAKING IT A RARE HELMET - 
- In great battle used condition -
Up for sale is this all original WWII U.S. M1 "Steel Pot" Helmet.  This is the early helmet with the Front Seam, Stainless Steel Rim and Swivel Bales.  The helmet has the original paint over the original cork finish. Normal wear on the paint, mainly around the rim.  There are no major dents, some small dings to the helmet as would be expected with a period piece.  It has the original sewn to the bale chinstraps. The production Number is 222B, stamped inside front, under brim of the shell.    
The liner is a Hawley Liner "G" sub-contracted to General Fibre, with manufactures mark stamped on the inside of the liner "liner fiber m-1, with a G under". The liner has original paint finish, and looks period used, has a crack on the inside upper crown of the liner, can't see it from the outside, great shape.  It is complete with the original correct Khaki color webbing.  The sweat band is original, with the correct Khaki color suspension system. The shell is scratched with the soldiers name "Yost" on the inside. In researching, there were several Yost soldiers that served in WWII. Early correct fastener clips are used as retainers. Leather chin strap is original, nice brown color, green painted iron cam. Hawley liners are hard to find, even harder marked with the sub-contractors "G" General Fibre, very desirable. This one is in great shape.    
This is an all original WWII U.S. M1 Steel helmet, with a great battle feel, identified to a soldier "Yost" as scratched on the inside of the liner. This is a great helmet, that would add nicely to any collection. 
It's hard to find great original M1 Helmets offered for sale, and even harder with Hawley Sub-Contracted "G" General Fibre liners. When there out there, collectors grab them up fast, this is tone of the nicest.  Don't miss out on this opportunity to get a great original WWII Helmet w/Hawley Sub-Contracted "G" Liner.