GUARNTEE TO BE ORIGINAL, 15 DAY INSPECTION PERIOD
WWII U.S. Marine Group, "#523" 25th Marine Reg. 4th Marines, "Saipan" - ORIGINAL - SOLD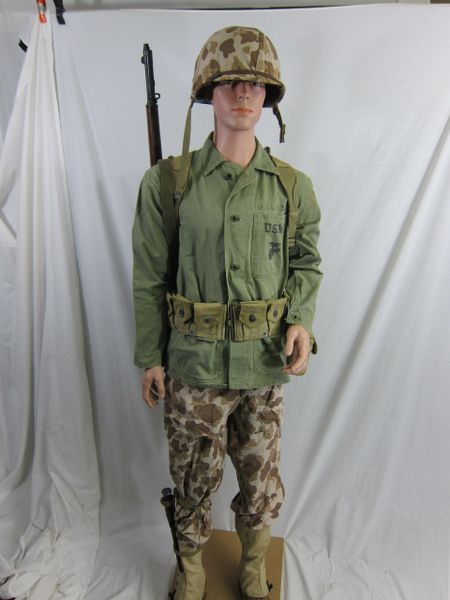 WWII U.S. Marine Group, "#523" 25th Marine Reg. 4th Marines, "Saipan" - ORIGINAL - SOLD
Description
Original WWII U.S. 4th Marine Group
"U.S. Marines Uniform - Battle of Saipan"
 THIS IS A NICE RARE UNIFORM - In great battle used condition
This is a U.S. Marines uniform grouping with the canteen covers stenciled "523" indicating 25th Marine Infantry regiment, Weapons Company, 4th Marines. 25th Marine Infantry Regiment took part in the battle of Iwo Jima, battle of Saipan, battle of Tinian, and the battle of Kwajalein. This is a great original uniform that was used in the Pacific theater of operations in WWII. This uniform is battle used "salty" given the dates of the items and the trousers, this grouping would have been consistent with being at the battle of Saipan.  Grouping consists of the following: 1). His M1941 green utility jacket, herringbone twill, with Marine buttons. Three flapless pockets with "USMC" and "EGA" on upper left pocket, crisp, clean and faded. The pocket is the flat bottom style of WWII. The buttons are bronze, non-magnetic, early war. There is a name on the front pocket, faded  - "HALUSKA".  2). His P44 Camo utility herringbone twill trousers, large rear ass end.   3). His USMC web rifle belt marked "USMC".   4). Two WWII canteen (bunny ear) covers, type P3 & P4 with canteens.  The P3 cover (no hole) has markings - "523", and "2" representing a Corporal, the canteen is the Black enamel style marked - "U.S.", "VOLLRATH", "1942", the cup is marked -"T.A.U. CO. 1941" , the P4 cover (with hole) is marked - "523", the canteen is marked - "U.S.", "REP", "1942"  and cup marked - "U.S", "M.A. CO.",  1941".  5). WWII Issued M1917 Bayonet marked - "RIA", "1917", "U.S.", "266116", with marked M-1917 scabbard marked- "U.S." "M-1917" for the M1 Grand.   6). WWII USMC KA-BAR, marked - "USMC", KA-BAR.   7). USMC shovel entrenching tool and cover.  9). USMC M1941 haversack marked - "USMC BOYT -43-". 10). M1 Helmet - early fixed bale, front seam, lot No. 244, with Westinghouse liner, correct darker WWII green. Real nice period correct helmet. 11). USMC camouflage cover, 1st pattern no slits with the exception of the two period cut with a Ka-Bar knife for the chinstrap. All shapes are correct and authentic, the stitching is correct, open serge triangle "saw teeth" on the desert tan side and closed serge loupe on the jungle green side. This is a true WWII cover with NO EGA stenciled. This is the real thing and fantastic looking on the helmet. 12). Marine leggings, six grommets. 13). USMC boots or field shoes (Boondockers) with composition soles. 
This is a real nice complete grouping of a U.S. Marine soldier in WWII, mid to late war uniform. Great display, would look good in any museum or high-end collection. 
NOTE: THE M1 GRAND RIFLE IS FOR DISPLAY ONLY AND NOT PART OF THIS GROUPING. The M1 Grand Rifle is a reproduction and added in the photographs for a better display. Look in Military Weapons and Armaments at e Militaria Collector Store for this gun.
NOTE: THE MANNEQUIN IS FOR DISPLAY ONLY AND NOT PART OF THE GROUP. -SOLD -