GUARNTEE TO BE ORIGINAL, 15 DAY INSPECTION PERIOD
WWII U.S. Marine Group - ORIGINAL - SOLD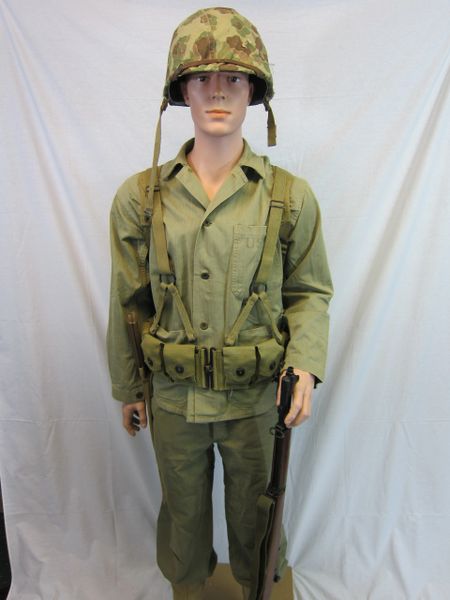 WWII U.S. Marine Group - ORIGINAL - SOLD
Description
Original WWII U.S. Marine Group
"U.S. Marine Uniform - Battle of Okinawa, Peleliu"
 THIS IS A NICE UNIFORM - In great battle used condition
This is a U.S. Marine uniform as would of been worn in the battle of Okinawa or Peleliu. This is a great uniform that was used in the Pacific theater of operations in WWII. The grouping consists of the following: 1). His 1941 green utility jacket, herringbone twill, with Marine buttons. Three flapless pockets with "USMC" on upper left pocket. 2). His 1941 green utility herringbone twill trousers. 3). His cartridge belt. 4). Marine suspenders. 5). Marked "U.S.M.C." dated "1944" machete scabbard. 6). USMC machete, manufactured marked "True Temper U.S. 1944". 7). Bayonet dated "1917" marked " RIA US". 8). USMC shovel entrenching tool with marine unit markings. 9). USMC canteen and cover. 10). Helmet - early fixed bale, front seam, with Westinghouse liner. 11). USMC camouflage cover. 12). Marine leggings, six grommets.
This is a real nice complete grouping of a U.S. Marine soldier in WWII, early to mid war uniform. Great display, would look good in any collection or museum.
NOTE: THE MI GRAND RIFLE IS FOR DISPLAY ONLY AND NOT PART OF THIS GROUPING. The M1 Grand Rifle is a reproduction and added for a better display. 

NOTE: THE MANNEQUIN IS FOR DISPLAY ONLY AND NOT PART OF THE GROUP.  SOLD