GUARNTEE TO BE ORIGINAL, 15 DAY INSPECTION PERIOD
WWII U.S. Paratroopers Helmet Steel Pot, Swivel Bale, Front Seam w/Westinghouse parachutists Liner, ID'd - ORIGINAL RARE-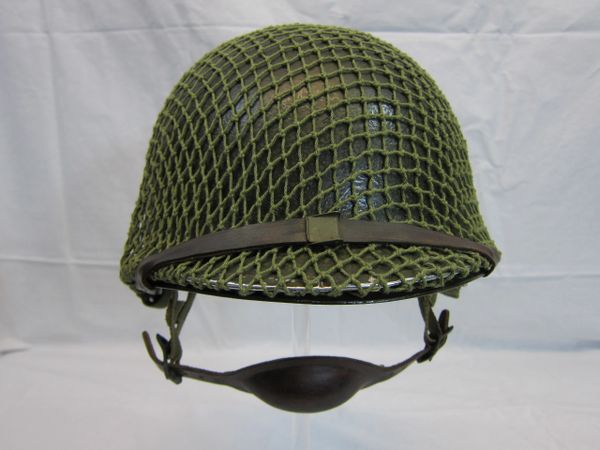 WWII U.S. Paratroopers Helmet Steel Pot, Swivel Bale, Front Seam w/Westinghouse parachutists Liner, ID'd - ORIGINAL RARE-
Description
Original WWII U.S. Paratroopers "Steel Pot" Helmet - Front Seam/Swivel Bale w/Westinghouse Parachutist Liner - ID'd - Period Paint - Period Camouflage Netting
THIS IS A RARE HELMET- In great battle used condition
The helmet is an all original WWII U.S. Paratroopers "Steel Pot" Helmet. This is the early helmet with the Front Seam, Stainless Steel Rim and Swivel Bales. The helmet has the original paint over the original cork finish, and a Original Camouflage Netting over the top. The outside is warn like it should having a period applied camouflage netting over the top all these years. Normal wear on the paint, mainly around the rim as would be expected with war worn helmet. There are NO major dents, only some small dings to the helmet as would be expected with a period piece. It has the original sewn to the bale chinstraps. The production Number "1414" is stamped inside front, under brim of the shell.
The liner is a Westinghouse Parachutist Liner, with manufactures mark stamped lightly on the inside of the liner "W" in a circle. The liner has original paint finish, and has that period used look, and in great shape. It is complete with the original correct Khaki color parachutist webbing for this liner. The sweat band is original, with the correct color suspension system. On the sweet band is written the soldiers name "WENDEL" on one side and "CHAFFIN" and what appears to be Capt. bars on the other side. "II" The Captain bars look like they were put on the band later, and with a silver color. The chin cup buckles are of the 1943 iron alloy and painted green, that has tarnished off. The chin cup is nice brown leather with chamois-lined. The 1944 correct brass with a black coating fastener clips Washers are used as retainers. This helmet would have seen war in mid to late 1944 or early 1945 to the end of the war. The back neck suspension band strap has a rip next to the back retainer clip and the front suspension system has three additional places next to the fastener clips Washers that have rips. The buyer can have the suspension repaired easily, if desired by the new buyer. I like it period used and have not touched it. The Leather chin strap is original, nice brown color, green painted iron cam, secured to liner using hollowed tip studs.
This is an all original U.S. WWII Parachutist Steel helmet, with a great battle feel, identified markings to Wendel Chaffin, could be a Captain. This is a nice Original WWII US Paratroopers Helmet, helmets like this are what the top collectors desire.
It's hard to find great original U.S. M1 Helmets offered for sale, and even harder if they are identified with markings to a person. When there out there, collectors grab them up fast, and this one is a real nice original helmet. Don't miss out on the opportunity to own a real piece of history.